Center for Civic Engagement to host mock caucus event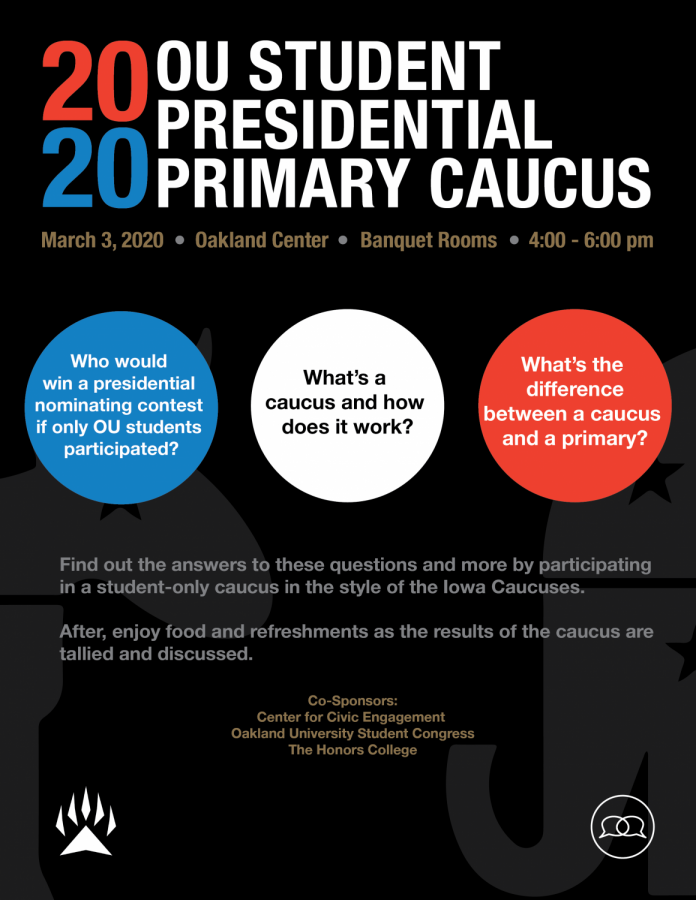 For the first time in Oakland University history, the Center for Civic Engagement (CCE) will be hosting a mock presidential primary caucus. The event will follow the lead of a democratic Iowa-style caucus, and students will find that it's much different than the average primary in which Michiganders are used to participating.
The mock caucus will take place Tuesday, March 3 from 4-6 p.m. in the Oakland Center banquet rooms. Food and beverages will be served after the caucusing takes place, followed by a discussion led by the CCE.
Professor David Dulio is the director of the CCE. He started the initiative to bring a caucus event to OU students.
Different from the standard presidential primary where there are secret ballots and strict campaigning policies, a caucus allows candidate representatives to argue for their candidate to the voters in the room. 
"Primaries and caucuses are both in the category of what I would call a nominating contest," Dulio said. "All 50 states, the territories, people living abroad, they will all have a chance to participate in a nominating contest. It's up to the state [to decide] which one that's going to be — whether a caucus or a primary."
Each representative will have an area of the room where they encourage voters to join them through arguments made in support of their candidate. Essentially, heads are counted when every voter aligns themselves with a candidate, and each group that has less than 15% of support from the room will be eliminated.
"If a preference group does not have 15% support out of the entire caucus-going crowd, that group is deemed to be nonviable," Dulio said. "In that case, those folks who are in a nonviable group can go to their second choice."
From the second alignment, the winning candidate is chosen. 
"It is those results that are then taken forward through the rest of the caucus process beyond that first step," Dulio said. 
To prepare for the mock caucus, Oakland University Student Congress (OUSC) Civic Affairs Director Ethan Bradley recommended some online resources for learning about the candidates.
"The Campus Election Engagement Project has a detailed guide on the process of getting registered and voting," Bradley said via email. "Politico has an extraordinarily detailed and easy-to-navigate guide on the political views of each candidate."
At the event, OUSC will provide paper forms for students to register to vote. Since Michigan's primary election is a week away from the mock caucus, students will have to provide that paper form to the election inspectors at their precinct when voting.
"Michigan residents can vote on March 10 if they register to vote online or by mail before Feb. 24, or if they register at their local (city or township, not county) clerk on or before the day of the election," Bradley said via email. "Online registration and other information are available at mi.gov/vote." 
The CCE is encouraging students to become politically involved by engaging in their Iowa-style mock caucus on March 3. Students can RSVP for the event by following this link.