People of OU: Songwriter, skater, actress and future linguist, Bella Javier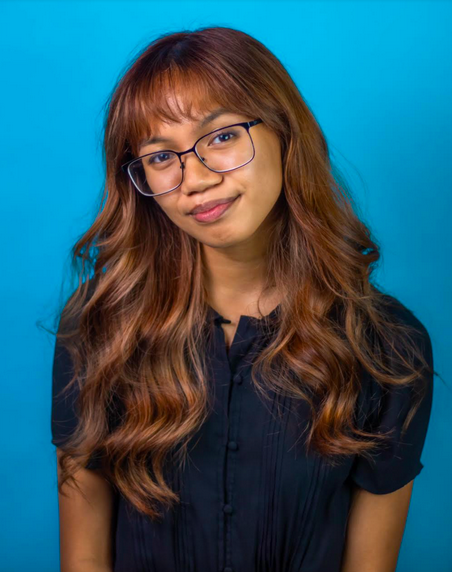 One shocking data point tells us that one language dies out every 14 days, making as many as half of the world's 7,000 languages expected to be extinct by the end of this century.
Every language deserves to be preserved for its own sake, and the study of linguistics offers insights and possible solutions for language related problems.
For Bella Javier, a junior in OU's Honors College, this is her dream: to better understand language that is universal and fundamental to all human interactions and increase our knowledge and understanding of the world. Javier is double majoring in linguistics and philosophy. During her time at OU, she has become a teaching assistant (TA) for the Honors College, vice president of Filipino-American Students of Oakland University (FASOU), earned her TESL certification and joined the Ethics Bowl team, etc.
Growing up sheltered, Javier couldn't be more appreciative of the plethora of opportunities she was provided with at OU.
"It really wasn't until my creative and cultural opportunities at college that I was able to learn and grow and break out of the world I was confined to," Javier said.
Her passion for linguistics began in her high school years – primarily motivated by her high school German teacher. According to Javier, her German teacher was the first person to recognize her love for language and her analytical skills and to steer her in the right direction. Her teacher's guidance only made her fall in deeper love with the field of linguistics.
Her experience in film, in which linguistics is applied, first started with her friend's suggestion in auditioning for the lead role in a short film called "Reina." After a successful experience during her first film experience, she was recruited by the director of "Reina" to be a part of his creative collective. Since then, Javier has been working alongside the director and other creatives.
"I love participating in film, it's such a beautifully intricate thing," she said. "Every time I'm on set, I learn something new. I'm happy to announce that next month, not only will my third film be released, but I'll be acting in my fourth film."
After her graduation from OU, Javier hopes to pursue a Ph.D. in linguistics to further her education in the field. During this time, she plans on continuing her research on Tagalog syntax and delve into more niche languages — specifically languages spoken by the indigenous Philippine population. In addition to her education, she also plans on creating a feature film with the director she's been working with.
"I want to pursue a Ph.D. in linguistics, that's really my dream; getting into a good grad school and continuing to study what I love, that's all I want after my undergrad."
Although her passion revolves around linguistics, her talent doesn't stop here. Outside of school, she mainly spends her time thrifting, on a coffee run, writing lyrics and skating.
Songwriter, skater, actress and future linguist Javier strives to accomplish her goal of furthering her education within and out of the field of linguistics in an effort to contribute to her community.
"I can often be spotted roller-skating around campus, so if you see me feel free to say hi!" she said.