People of OU: Figure skater, choreographer and PR student, Madeleine Gallagher
She's been Tinkerbell, Snow White and a plethora of other iconic Disney characters during her days on "Disney on Ice," worked with Apple TV as a figure skater choreographer and lead skater, won Intermediate National Pairs champion (figure skating) and a Pewter Medal at the Junior National Championships in 2016 — but she's also pursuing her a degree in public relations (PR) at Oakland University.
Madeleine Gallagher first laced up her skates as a hockey goalie, starting at the local learn-to-skate club in her hometown of Bay City, MI. She transitioned to figure skating when she was four.
"The dream slowly faded when I realized hockey players don't wear the pretty dresses," Gallagher said.
What called her to the Detroit area was pairs skating — when a coach mentioned he had a student looking for a pair partner. Gallagher began skating with him when she was 11, and eventually became the Intermediate National Pair champion in 2012.
Training at the Detroit Skating Club (DSC) prior to attending OU, Gallagher mentioned most skaters that train at DSC come to OU — it was the perfect fit.
"I remember I was leaving practice early to come to a campus tour — I was so excited," Gallagher said. "[But] training kept going and I was coming to the end of my senior year. I was dying out on the competition part [when] I found out 'Disney on Ice' was coming through the Saginaw area."
Gallagher auditioned for "Disney on Ice" when she was 17, saying it was "love at first skate," but didn't hear back for awhile.
"I graduated high school and [figured] I'd get a head start and go to college. I loved it, I had a great time. I had all my sheets and my dorm stuff, had a roommate — I was ready to go. Then I got an email in the parking lot after my class [from 'Disney on Ice'] and I was like 'oh no.' So I returned all my school supplies and dorm materials and traded it in for two big suitcases."
With "Disney on Ice," Gallagher travelled around North America, South America, the Middle East and Western Europe — playing princesses Ariel, Belle, Snow White and Anna — even Tinkerbell, and Nala from "The Lion King."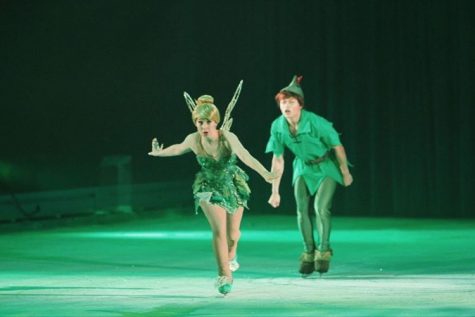 "My favorite was Tinkerbell," Gallagher said. "Even though she didn't have any lines, she got to fly — I had a harness. I [also] had a wand full of glitter. I thought I always looked the most like her, too."
Once COVID-19 hit, and Gallagher was sent home from Spain during "Disney on Ice," she was motivated to continue working on her degree.
She started as a Liberal Arts major, but fell in love with PR during her time touring. Gallagher did a lot of the PR and promotional work for "Disney on Ice" and realized she wanted to go to school for it. When tour started back up, Gallagher made the decision to stay behind.
"I [want] to get this [PR] degree — I'm finally in it and I'm not going to stop," she said. "I really enjoy the classes and being able to learn, instead of the day-to-day showbiz." 
When it comes to career goals, Gallagher hopes to become a production assistant and slowly move up. She loves figure skating, but wants to get into more choreography and film.
This summer, she worked with Apple TV on a film — to be released next Christmas.
"I can't get into too much detail, but I was the figure skater choreographer and lead skater," Gallagher said. "It has quite a few big stars — I had a great time working with them, putting together a skating team and falling into the movie business. I'm working on integrating that business into my work schedule."
All in all, Gallagher is extremely grateful for OU.
"I love the small classes, the flexibility — there's something about it that's home for me."