John Mayer pardoned at The Palace Friday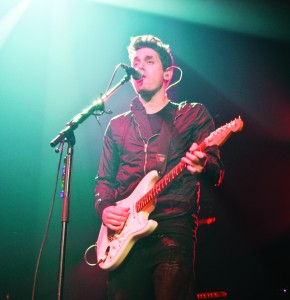 John Mayer has come under rapid fire since the release of his Rolling Stone and Playboy interviews, but during his Feb. 12 concert at The Palace, fans landed him a break, and he responded with two hours of nonstop talent.
Mayer ignored the controversy and ripped through a diverse set list containing tracks from all four of his albums, and some unexpected covers.
He opened the show with the first track, "Heartbreak Warfare," from his most recent release "Battle Studies." His echoing guitar riffs and strong vocals commanded the crowd's attention immediately.
Mayer strayed from the impersonal "larger than life arena show" that some artists perpetuate with outrageous visual distractions and spectacle. Instead, Mayer broke the mold and let the sound speak for itself with fan favorites like "Bigger Than My Body" and "Waiting on The World to Change," and earlier hits like "Why Georgia."
Mayer also performed The Police's hit "Message in a Bottle." He took the famous song head-on, both honoring the band and making it his own.
His shining moments during the show were in his elaborate jam renditions of recorded versions, as he added extended guitar solos and new melodies. Mayer and his band played off each other for minutes on end, alternating between solos and instrumental duets.
One musician in particular, drummer Steve Jordan, also part of the John Mayer Trio, really showcased his skills and talents in his "groove" spotlight. Jordan may just become one of the most talked about drummers in popular music today.
Near the end of the performance, Mayer said, "Any of these performers could tour under their own name, and I can't thank them enough." The statement couldn't be more true, each band member complemented him effortlessly.
Throughout the entire show, Mayer engaged with the eager audience. Before one track, he jokingly referenced the '80s arm-wrestling flick "Over the Top," and included insight into his song creation process. Later on, he asked the crowd to step back into the '70s, a time where records were selling like crazy.
His upbeat attitude, in lieu of his self-inflicted media problems, give new meaning and reason behind his "Perfectly Lonely" lyrics, "I have to thank the wrongs that led me to a love so strong."
He seemed to be taking a step in the right direction by not avoiding the elephant in the room.
During the entire set, particularly in "War of My Life," Mayer seemed to find comfort in the healing power of music and lent lyrical advice to the audience with the cry, "Fight on, fight on everyone, fight on."