Professor Profile: Cam and Sue Evans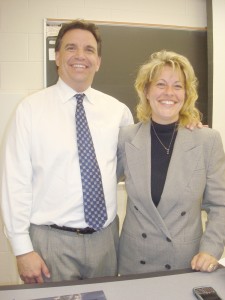 From bar trivia questions to amusing anecdotes of real-life court trials to their tag-team classroom instruction, Sue and Cam Evans bring a unique approach to teaching journalism students how to avoid legal consequences when reporting.
The husband and wife duo are co-instructors of JRN 403, law of the press, which is required for all journalism majors. By dividing the lectures into segments and alternating who leads the discussion, they can successfully keep students engaged for full 3-hour and 20 minute weekly classes.
"They are an awesome team," said senior Gabrielle High. "They both bring something unique to the class lectures."
With class discussion topics that run the gamut, a typical class is filled with genuine laughter mixed with intensive legal jargon and court case studies.
While absorbing all of the material for the class can be a daunting task, the messages Sue and Cam try to convey are essential to any journalist's education before entering the professional world.
"I hope we are giving (students) tools for your toolbox," Sue said. "I hope we are conveying an excitement to you."
One of the highlights of the class is an assignment in which students attend a legal procedure at the U.S. District Court in Detroit.
Alumna Jennifer Wood said she expected a class titled "Law of the Press" to be dry, but said the Evans addressed that in the first hour and made it fun by relating course material to current issues. She said she enjoyed "the way they bounce off each other" and how "she picks on him for liking Barry Manilow."
"By the end of the semester, it was my favorite class," Wood said.
The two of them agree that one of the best rewards of teaching this class is reading bylines by former students after they graduate and find jobs in journalism.
"Having different students with different perspectives help us grow as professionals," Cam said.
Both Cam and Sue are native Michiganders. Sue was raised in Troy while Cam grew up in Plymouth. While both graduated from the Wayne State University Law School, Cam completed his undergraduate at the University of Michigan and Sue is an alumna of the Oakland University Honors College.
Cam and Sue have been teaching JRN 403 for the past five years. Though this is the only class they teach, they are both extremely zealous about the topic. They hope to create a new advanced media law class to offer at OU for future semesters.
Cam is an established partner at Honigman Miller Schwartz Cohn LLP in downtown Detroit and was named one of the "Best Lawyers in America" list for 2010 and 2011
Sue, who used to work for some of Michigan's most prestigious judges, now is the co-owner of a Michigan-based publishing company called Mackinac Island Press. The company publishes children's books.
They are also avid OU basketball fans. As season ticket holders, their students can often spot them in the crowd during Golden Grizzlies games.