Conquering the hurdles: One alum's determination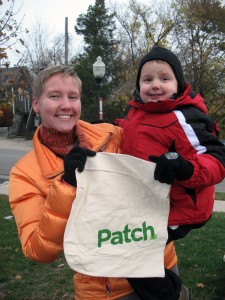 She enters the classroom with a big, bright smile, sporting an Oakland University T-shirt and a blonde pixie cut. In addition to a backpack full of books, notes and pens, she has with her an unusual classroom supply — her 4-year-old son, Ethan.
Jen Anesi isn't there to tell students where journalism has brought her. In fact, journalism wasn't always her main pursuit, but several career changes, enrollment in three universities and a child have led to her current standpoint.
"It's a darn good motivator to have a kid," Anesi, 27, said. She fiddles with her son's Nintedo DS as he tells her he wants to play. "You're not only doing it for yourself, you're doing it for them, too."
Anesi excelled at French horn at her Wisconsin high school, so she followed the advice of others and pursued music at DePaul University in Chicago. Then her pursuit of a guy brought her to the University of Michigan.
She soon realized that shaping her life around others was a bad idea. Anesi dropped the guy, dropped out of U-M and joined the Army National Guard, where she worked as a combat medic for almost three years.
"There's something therapeutic about shoving a needle into someone's arm," she recalls with a slight smile.
But medicine was not the answer for Anesi, either.
She returned to Michigan, got married, moved to Arizona and had Ethan. Life seemed to be looking up, but then her husband deployed to Afghanistan.
While Anesi's husband was away, she realized that she had better finish school.
"What if something happened to him?" she wondered. Being a single mom was not easy, especially not financially, so Anesi enrolled at Oakland University.
From music to elementary education to theater, Anesi's major was constantly changing like a chameleon.
That is until one day, when a theater professor told Anesi she should consider trying journalism.
Taking his advice, Anesi signed up for the intro journalism class with Professor Garry Gilbert. She said she was "geeked" about each assignment.
One hundred and sixty-two credits later, Anesi graduated in May, magna cum laude with a bachelor's degree in journalism and the university's 2010 Meritorious Achievement Award.
She has recently landed a job with Patch as a multimedia journalist.
Anesi's current success and happiness resulted from her decisions to start doing what she found pleasure in.
However, she feels that having a varied background makes it easier for her to relate to others. She said her experience with the Army National Guard helped her to be more organized and handle high amounts of stress.
Though life may have its twists and turns,  Anesi has managed to make everything work out for her.
Her advice to Oakland University students: "Listen to your heart."