Lansing theatre awards Oakland student scholarship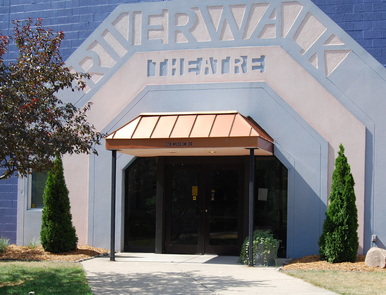 Oakland University musical theatre major Emily Hadick was awarded a $2,500 Performing Arts Scholarship from Riverwalk Theatre.
The theatre is entering its 28th performance season and is governed by a 21-member board of directors and run by about 300 volunteers plus a few staff members.
"Each year we produce six main stage shows, three black box productions, two children's shows, in addition to a cabaret series, staged reading, technical theatre classes and a theatre workshop program each summer for children aged 10 to 18," said Carol Ferris, a member of the scholarship committee.
This is the first year that the scholarship has been offered by Riverwalk Theatre. It is meant to help cover tuition, books, school materials and other educational expenses.
The Performing Arts Scholarship was open to mid-Michigan high school or college students involved in theatre, theatrical design, performing arts managements, music or dance.

Hadick and Michigan State University student Marcus Fields were both awarded the scholarship this year.
Hadick first performed at the theatre when she was seven in the production "Flipaswitch."
"She was the youngest person in the show by far, but her talent and maturity were already evident," Ferris said.
Since then, Hadick has gone on to perform in Riverwalk's production of "Annie," and at different community theaters, the Cincinnati Conservatory of Music, Western Michigan University and University of Wisconsin.
At OU, she played Laurey in "Oklahoma," performed in several other productions, represented the university at the Kennedy Center American College Theater National Festival in Washington, D.C., and will be taking on the role of Maria Josefa in "The House of Bernarda Alba."
"There is no greater feeling than stepping on a stage and sharing a story with an audience," Hadick said. "It's an energy that cannot be replicated anywhere else."
Hadick hopes to one day end up on Broadway and share her passion as an actress.
"The big goal is Broadway, but I'm a realistic person and my true hope is that I'll be able to make a living as an actress and continue to find creative outlets," she said.
The Riverwalk Theatre scholarship will go toward assisting her dream as Hadick continues her artistic career.
"Our mission in establishing the scholarship was to honor the hundreds of young people who have contributed so much talent and hard work to Riverwalk over the years," Ferris said. "They are Riverwalk's future . . . We hope our scholarship will help Emily realize her dream."
Keep your eye out for Hadick in fall productions at OU and around the area.
For more information on the Riverwalk Theatre, visit riverwalktheatre.com.