OU alumni capturing Black experience through art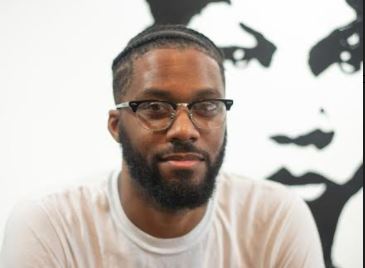 Jonathan Harris, an Oakland University graduate, has been making a name for himself in the arts of Detroit. At OU, he majored in graphic design with a minor in studio art after graduating from the Detroit School for the Fine and Performing Arts. Harris talks about his work, experiences and inspirations for his art and exposure. 
Over the last year, there have been countless demonstrations as part of the Black Lives Matter (BLM) movement to shine a light on police brutality, inequality and unjust treatment of people of color. Harris talks about the Black experience and the BLM movement as inspiration for his artwork. 
"I have really been passionate about selling the Black story or African American story from an African American point of view," Harris said. "We go to these museums and things like that and the way we are portrayed is weaker or less of, or sometimes we may not even be in the picture, and we didn't just come out of nowhere. I just wanted people to see us and us to see us, and I wanted to just spread awareness. Not anything of revenge, just awareness that we are human."
Harris was able to meet and sit down with Henry Harper, the co-founder of the Detroit Fine Arts Breakfast Club — an artist enthusiast group encouraging and supporting fine arts in the Metro Detroit area.
"Before I met Henry I was just painting celebrities and things like that," Harris said. "I was just getting into the art and trying to figure it out. He just sat me down and was like if you go into a museum you're not going to see pictures of celebrities — you're going to see pictures of people's stories of their lives. When we went he pointed that out to me and was like 'You, you have a story.' Everybody has a story. I started to pay more attention to what my story actually was and is as it is being written, as well as people around me."
Besides representing the Black experience through his artwork, Harris also shares his personal experiences. 
"Sometimes I'll just be listening to music or I'll be reading something, or just in everyday life and I can't believe that happened," Harris said. "Or I'll think of something in the past that happened, and I'll think [about] how I can portray that into a painting and make it beautiful and interesting where everybody can look at it and question what is going on there and have that experience."
While art degrees are frequently undervalued, Harris' experience is proof to the contrary. He went through two different art programs furthering his experience, skill and technique in the arts, which has led to his current success with shows, programs and exhibitions for his artwork.
"My experience has been pretty good," Harris said. "It seems right now in Detroit it seems like this art renaissance, just an explosive art thing right now. I feel like I am a part of that and I feel that people recognize that and they trust me. They trust me when I put on a show to participate. Galleries trust me. Collectors trust me — collectors buy work with the intent that it will increase over years. They aren't eyeing people's work who they don't feel are focused or trying to do more."
Harris has a new exhibition coming up at the Irwin House Gallery called TRIPTYCH: Stronger Together which is starring Crystal Starks-Webb, Terrell Anglin and Harris himself opening on Nov. 5 from 5 p.m. to  9 p.m.