Professor Profile: Kathleen Pfeiffer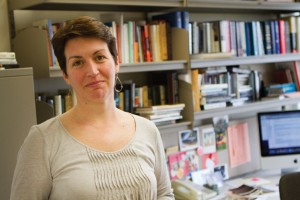 By Sarah Wojcik
May 9, 2011
Hang on for a minute...we're trying to find some more stories you might like.
Author of four books, Professor Kathleen Pfeiffer has a master's degree and Ph.D. in English and American literature from Brandeis University in Boston.
"In high school I liked English the best," Pfeiffer said. "That's what I enjoy most, (it's) sort of like a calling."
Pfeiffer has been teaching since she was in graduate school and has taught at Oakland University since the fall of 1997.
"She incorporated humor into her lessons and made everything at least somewhat relatable," Catherine Twigg, a junior majoring in communication, said. "She made sure that every student had the opportunity to do well and always managed to end on a good note that left you thinking."
Pfeiffer's most recent book, "Brother Mine: The Correspondence of Jean Toomer and Waldo Frank," was published last summer.
The book includes a collection of letters that were written in the 1920s between two friends and authors by the name of Jean Toomer and Waldo Frank. Pfeiffer was able to locate the actual letters that were written, make photo copies of them and add them into her book.
"It was difficult to place the letters in order, because many did not have dates," Pfeiffer said.
Pfeiffer has also been on the Academic Conduct Committee for OU, the group that reviews cases of suspected plagiarism and misconduct of students, for a total of nine years.
Pfeiffer said she enjoys being on the committee because it is a good way to meet professors from other departments, as well as students involved with the committee.
In her spare time, Pfeiffer enjoys tending her garden and her yard at home and likes to knit during the winter months. Pfeiffer also enjoys attending out-of-state conferences.
"Professor Pfeiffer added so much depth and insight to the material we read," Larissa Dourjalian, a junior majoring in English, said. "She kept everyone thinking and participating. Professor Pfeiffer has a very positive attitude and is so much fun to learn from."
This summer, Professor Pfeiffer is teaching ENG 342, African American Literature.