Aid available for veterans at OU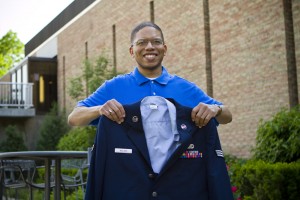 Oakland University's Office of the Registrar and Veterans Support Services provide advice, assistance and guidance for military veterans when transitioning into college.
During the past winter semester, 155 veterans either in active duty, in the reserves or receiving rehabilitation services were enrolled at OU.
Because of the Post-9/11 GI-Bill from United States Department of Veteran Affairs, effective since August 2009, veterans can receive financial support for education and housing.
The bill covers tuition based on the highest in-state price of a public institution, according to the U.S. Department of Veteran Affairs.
The amount of support the veteran may qualify for depends on where they live and what type of degree they are pursuing.
G. I. Jobs, a magazine that provides information such as résumé, career and education tips for post-military success, characterized Oakland as a 2011 "Military Friendly School" for providing veterans with world-class benefits in collaboration with the Department of Veterans.
"The military encourages leadership greatly," Seth Walker, a senior majoring in journalism, said. "Leadership from the Air Force has encouraged me to be successful here."
Walker said he was very naïve when he first enlisted at age 19 and that he has learned more in the past eight years about the world compared to his first 20 years.
Now a student and a retired Airman, Walker said he believes he appreciates his education more than the average student.
"Make the most of your chances," Walker said. "A kid out of high school might not take advantage of his or her opportunity to go to school."
Living the military lifestyle can also present challenges for soldiers.Walker explained how being deployed can bring a lot of stress into one's life.
"It was difficult to see friends come and go and also being based in Alaska when it can be minus 50 degrees Fahrenheit some days (was hard)," Walker said.
For the past eight years,
Walker has addressed his authoritative figures as "sir" or "ma' am," but his education at OU has helped him return to a "civilian" lifestyle.
"Being surrounded by civilians 24/7 has helped me get out certain habits," Walker said. "The first day of class, when addressing my professor, I used 'ma'am.' "
Mike Brennan, the veteran liaison for OU, is the first person to contact when enrolling at OU as a veteran. Brennan helps with students' transitions from the military lifestyle to being an OU student.
As a liaison, Brennan answers questions from incoming veterans who want to attend OU and, when they are ready for registration, sends them to Ann Besaw, an employee in the Office of the Registrar.
Besaw sets up paperwork and connects veterans with an adviser to create a plan for their area of study.
Brennan, an Army veteran of six years, has been deployed in Iraq and lived in Korea.
"Being in the Army, I was able to see the world," Brennan said.
During Brennan's service, he was able to see different cultures from all over the world and gained an appreciation for their similarities and differences to American culture.
Because of his military experience, Brennan chose to major in anthropology.
Brennan was encouraged by his military branch to attend college after his service. The military aid Brennan received drove him  to be successful.
"I would be nuts to not take advantage of it," Brennan said.
Brennan graduated after the winter 2011 semester concluded.
For their commencement ceremony, veteran students have the option to wear a red, white and blue cord recognizing their military service.