Dean McIntosh: On call 24/7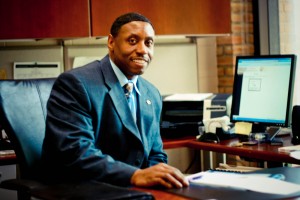 Hang on for a minute...we're trying to find some more stories you might like.
Dean of Students and Assistant Vice President of Student Affairs Glenn McIntosh believes in eating healthy and working out so he can ensure he has an abundance of energy when tackling his everyday obstacles.
Although he is only on campus from 8:30 a.m. until anywhere from 7-10:00 p.m, McIntosh is on call 24/7. As the Dean of Students, he handles everything student-related, and with the residence halls open 24/7, there is always something that needs to be addressed.
Upon arrival, McIntosh immediately checks his fax machine to find the Oakland University Police Department police log to see if anything needs his immediate attention.
He checks his email, the best way to contact him, like clockwork, as his schedule is unpredictable and he constantly receives email from students, faculty and others.
A firm believer in always being available to students, McIntosh also gives out his cell phone number so students are always able to contact him if an issue arises.
Many students and staff look up to him on campus.
"I think Dean Mac is an inspirational person. Every time I meet with him, I want to do better on the project I'm working on. He is an outstanding role model for students on campus," Oakland University Student Congress Vice President Elisa Malile said.
Whether it is in regard to an academic or non-academic conduct issue, a medical emergency, an issue that could not be resolved in another department or a new program that is on its way to being implemented, he is constantly in meetings throughout the day with students, faculty and outside vendors.
McIntosh said his greatest passion he finds in his job is helping people.
"Overall, it's just seeing students come in with some real crisis issues, and you help them through those periods in their life," he said. "And then you see them much later or at commencement, and you realize you had a hand in furthering their goals and ambitions."
Even when dealing with an academic conduct case, he feels strongly about helping that person take time to deal with their issues and come back.
"To see people who we have to suspend, come back, there's nothing better than to be seated on the stage at commencement and see them come past," he said.
McIntosh did his undergrad at Central Michigan University and received his master's from Wayne State University.
When he first came to OU 16 years ago, he created and was the first director of the Center for Multicultural Initiatives and started the Advising Resource Center. From there, he moved to his current position of Dean of Students and Assistant Vice President of Student Affairs.
"One of my goals was to become a dean at some point in my career," he said.
And he did just that. McIntosh has held his current job for eight years.
McIntosh continues to try to come up with ideas, programs and initiatives that are out-of-the-box.
"A lot of these ideas are usually formed in conjunction with students, meeting with them, holding focus groups and really trying to find out how to connect with students and how to deliver services to students in a way they're going to be receptive to it," he said.
This summer, McIntosh is looking to work in conglomeration with OUSC to build a plaza between Kresge Library and the Oakland Center where students can gather, have cookouts, et cetera and also install more bike racks around campus and renovate a few offices.
He focuses on establishing close relationships with students, many who
affectionately call him Dean Mac, and learning from them, especially in the way of technology.
"(Giving attention to every student is) really kind of like what I pride myself on as opposed to just trying to push someone out the door because I have something else that's pressing. I would rather lose sleep than to do that to someone. That's a disservice at a critical moment in their life."
— Managing Content Editor Nichole Seguin contributed
to this report