'Vitality' invigorates OU dance scene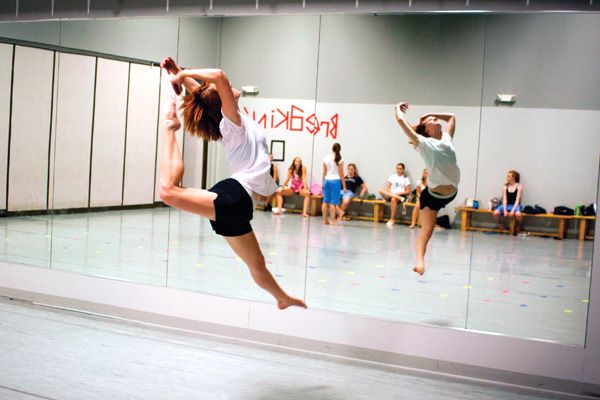 By Ali Armstrong
July 18, 2011
Hang on for a minute...we're trying to find some more stories you might like.
Watch out dance team, Oakland University has a new competitive dance club on campus.
Vitality Dance was founded this year by coach Sara Porzondek after she left her coaching position on Oakland's dance team and saw an opportunity to start OU's first dance club.
"From 2008 to March 2011, I was the coach of the OU Dance Team, which performs at athletic events," Porzondek said. "I decided to leave that position because the dance team was not getting the recognition and appreciation it deserved from that department."
Vitality Dance is an organization for dancers trained in jazz, lyrical and contemporary dance with a focus on studio type dancing rather than poms style dancing. The club will have a mixture of large group performances as well as solo performances showcasing a mixture of contemporary, modern, lyrical and jazz dancing.
As a competitive dance club, the group will be attending at least one dance competition during their season.
All 11 members have prior  studio dance experience and four are former members of the OU dance team. Porzondek says that a solid jazz and technical dance background is helpful, but not required to join the club.
"Once you graduate high school, you really cannot dance at a lot of studios because they cut the age off for competition," Ashley Allison, secretary of Vitality Dance, said. "The only thing left was a college team, but I wasn't on dance team so I knew I couldn't do poms style dancing … so this is a great opportunity."
While the team has not yet had any group performances, they expect to put on a large showcase at the end of their season that will contain numerous large and small group performances.
They also hope to perform at campus and local events like the Involvement Fair, Greek Fest in September and the Rochester Christmas Parade.
"Our club is so new that a lot is still up in the air. We are definitely open to new ideas and suggestions. We will definitely be doing performances at OU, as well as local and potentially national competitions," member Christina Shalawylo said.
The club also plans on taking part in community services.
"A lot of girls are involved with outside groups, such as church or work groups that often work with the community," Porzondek said.
Another round of tryouts will be held Sept. 27th. During the fall, practices will be held Tuesdays and Thursdays in the recreation center.
For more information, email President Katie Bowe or check out www.facebook.com/oaklanduniversityvitalitydance