Alluring spin on Rochester history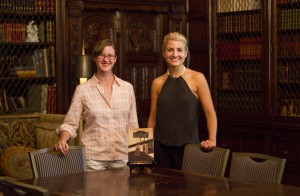 If you ever drive through downtown Rochester, take a stroll around Oakland University's campus or even stop for cider and donuts at Yates Cider Mill, you may not be thinking about who and what stood there years before you. But for two Meadow Brook Hall employees, uncovering the secrets and the history of Rochester's past is a part of their everyday lives.
In their most recent historical venture, Meredith Long, curator at MBH, and Madelyn Rzadkowolski, program and events coordinator at MBH, conducted extensive research and wrote a book titled "Images of America: Rochester and Rochester Hills."
"It is a general history of Rochester and Rochester Hills told through photographs. Photographs tell so much about the history of a town, so we have historical black and white photographs, mainly," Rzadkowolski said.
The book, published by Arcadia Publishing, is a part of a series that focuses on towns and cities across the United States. Each book in the series follows a specific format of photographs and short captions.
"They focus on photographs because, quite frankly, sometimes people think they don't like history and so these books are kind of that first book they might say 'oh wow that looks really interesting' and then they pick it up and see all of these great photographs," Long said.
The photos throughout the book contain area landmarks, buildings and notable residents in the town's history. Through their research, Long and Rzadkowolski were able to provide additional information in the captions of what is happening behind the scenes in every single photo.
"We interpret the history of them … You can pretty much go through the book looking at the photographs," Rzadkowolski said. "Then if you want more details beyond what you can see, we have kind of what they're all about and how they are associated with Rochester residents and businesses."
"Slowly (the readers) start to realize, 'I do want to read these captions' and they read the captions and they find out how wonderful their community is," Long said.
Shannon O'Berski, marketing and communications manager at MBH, thought both Rzadkowolski and Long did a good job on the book.
"I think the book is great. It allows the reader to experience local history in a fun and engaging way. It takes a lot of talent and perseverance to write a book -— they definitely have both," O'Berski said.
The idea for the book came when Long took a tour of the Historic Fort Wayne Coalition. The tour guide happened to be the author of "Images of America: Detroit's Historic Fort Wayne."
"He had just talked to the editor a couple days before and she had specifically mentioned really wanting to get a book about Rochester written," Long said. "There had been no one who had stood up to say that they'd write it for them … so I looked over at Madelyn and I said, 'Wanna write a book with me?' "
Long, who has worked at MBH for five years, has a bachelor's degree in historic preservation, a graduate degree in historic preservation and a post-baccalaureate certificate in fine art conservation.
Rzadkowolski graduated in 2009 with a degree in art history and art education. She began working at MBH as a volunteer two years ago.
"We worked really well together being able to say what interested us, so I think the book is fairly dynamic because we each have parts … she loves preservation and how cities are built and business and I love the social history."
"Images of America: Rochester and Rochester Hills" is now available at the Meadow Brook Hall gift shop, along with area books retailers.
OU students can tour Meadow Brook Hall free of charge and adults are $15.
"Behind the Ropes" tours run every Saturday and Sunday through Sept. 4 with tours at noon and 1 p.m. The tour includes rarely seen areas of MBH.
For more information, go to www.meadowbrookhall.org