Education majors have helpful outlet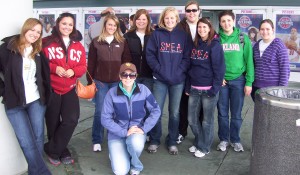 Student Michigan Education Association of Oakland University is a student organization that helps elementary and secondary education majors prepare for their teaching careers and gives them a chance to explore varying and beneficial opportunities.
"We are geared towards helping students get their feet in the door with networking, resume tips, interview tips, career opportunities, etc.," Sarah Bruha, the president of SMEA, said.
To become an "active member," SMEA has a point system.
At the end of each school year, if members accumulate 12 or more points, they are considered an active member.
Active members receive a certificate stating their membership — a beneficial addition to their portfolios.
Points may be obtained by attending events, volunteering, and attending general meetings and SMEA-approved conferences.
Members are getting ready for several upcoming events.
Their first event this semester is the Walk for Autism, where they will be walking outside The Palace of Auburn Hills on Saturday, Sept. 10 at 10 a.m.
SMEA has been participating in this walk for over three years.
While memberships expire from year to year, SMEA is starting off their first recruitment event with an ice cream social, which will take place at Pawley Hall on Sept.15 from 11:30 a.m. to 12:30 p.m.
"We always hope to get new people and past members to join again," Katheryn Fox, the treasurer of SMEA said.
SMEA's main event is the Fall Networking Banquet, which is being held this on Fri., Nov. 4 this year.
The Fall Networking Banquet welcomes principles and teachers from local elementary and high schools to come to OU and speak with future educators.
"It's a great way to make connections with a variety of different schools and the different administration and teachers," Fox said.
Set up in a "speed-dating" style, students will get a chance to talk and ask questions to the teachers and principals one on one.
The banquet is an ideal opportunity for students to listen to teachers and principles speak about how they first started off. Students will be able to get a first hand glimpse into the life of a teacher and learn from them for when they become educators.
Although similar to the Michigan Education Association, SMEA is a completely separate group. Although encouraged to join MEA, it is not required among SMEA members. SMEA gives students the benefit of networking specifically within OU.
The benefits of OU membership include listening to guest speakers, attending professional development workshops, building contacts for future career options and even volunteering for community-service.
If interested in becoming a member of SMEA, contact Sarah Bruha at [email protected] or Katheryn Fox at [email protected]
You can also visit their website for more information at www.stuorgs.oakland.edu/smea