A 'home away from home' for international students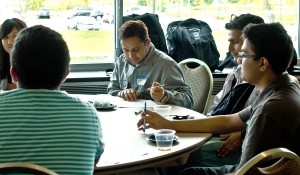 By Sarah Wojcik
September 26, 2011
Hang on for a minute...we're trying to find some more stories you might like.
The number of international students is growing at Oakland University, which is already home to more than 20,000 students.
"We have over 400 students from about 62 countries, based on last year," Petra Knoche, the assistant director of the International Students and Scholars Office, said. "We're redoing the statistics by the end of this month because we just got about 80 new students."
Compared to larger-scale universities that have populations of international students in the thousands, Knoche said that the ISSO is proud to offer specialized one-on-one services to students, including immigration counseling and a multitude of programs. On the door hangs a sign saying, "A home away from home."
International students have the option of coming as exchange students, generally staying for a semester or two, or degree-seeking students. It is required, however, that all international students be full-time students at OU and pass an English proficiency test.
"They are usually very committed to their studies," Knoche said. "(Often) not just mom and dad, but the extended family pool money so one child can go to American college. (They) face shame and embarrassment if they mess up."
Many international students, because they have to pay out-of-state tuition, opt to live in nearby apartments, such as Beacon Hill, according to Knoche. Some students also live on campus in apartment building 4000, which is known as the International Village.
The International Village, now in its third year of operation, houses 38 students, both domestic and international. Although the cost of living there is greater, the opportunity to learn about cultural differences is everywhere.
A popular event in the International Village is international food night, where each ethnic group receives a stipend from the ISSO and prepares a meal from their home country.
International students come to OU through a myriad of ways.
Some international schools have partnerships with OU. Other international students come because they have family living near the university. Many students discover OU through word of mouth.
Knoche said the ISSO only actively recruits in Canada as of now, but she would love to see efforts expand to more countries. She said the office also conducts visits to the embassy in Washington D.C about once a year.
Physical therapy, nursing, business and engineering are the most popular majors, according to Knoche.
Maki Nakayama, an exchange student from Japan, came to OU through a partnership with Nanzan University in Nagoya and will stay two semesters. She lives in the International Village and said she looks forward to international food nights.
"(In Japan), my major is English. Here I study linguistics," Nakayama said. "When I came here, I thought everything is big, like house, cars, food, everything. (OU) is also bigger. My university is so small."
A large student organization on campus, known as International Allies, operates to bring students from different backgrounds together with domestic students to learn about American life.
Cong Wu, or Andy, as he prefers, is a graduate student at OU from China. After receiving his bachelor's degree from Beijing University, he came to Michigan to live with his mother and enrolled in OU's MBA program. He is a member of International Allies.
"People are friendly here," Wu said. "I made friends and everything here is fantastic. Actually, I hung out with my friend and we even go hunting. (It was) pretty awesome."
Wu said that, compared to the crowded atmosphere he was acclimated to in Beijing, Rochester is much more laid back. He was also surprised to spot the deer roaming through the campus.
After completing their studies at OU, students are allowed to stay and get optional practical training for one year and work within their fields. Knoche estimated that 70 percent of students want to stay.
Priyanka Sevak, a sophomore studying accounting, heard about OU through her cousin, who studied mechanical engineering at the university. After graduating from high school in India, she and her sister moved into an apartment near OU.
"I would love to stay here, so (I want to find a) job in accounting field, so I can be here," Sevak said. "I enjoy the community here. The professors understand you, they give the time, like the office hours."
Gustavo Pessutti, a Brazilian exchange student studying journalism at the University of Sao Paulo, is living with his cousin in Washington Township and is only here for the fall semester.
"That's the point of coming here — learning English and getting used to making English a natural thing," Pessutti said. "English is really important because if someone doesn't know English, how will he know what is happened all over the world?"
Other programs the ISSO offers include its host family program, Learn About Me program and Coffee Hours.
The host family program, started about two years ago, is a non-living and non-financial agreement. Students are paired based on gender and similar interests and receive ideas from the ISSO of events to do. At least 30 students are interested in being matched this fall, according to Knoche.
The Learn About Me program brings international students into local classrooms in the Rochester area to give presentations about their home countries, replete with clothes, toys, pictures and food.
Coffee hours, held five times a year, serve as a social for international students to integrate with domestic students.
"What (international students) bring to the campus is just a different way of thinking and doing," Knoche said. "It's just so amazing because I learn something new every week because you meet people from all over the world, their beliefs, their body language. It's unique to hear somebody else's opinion who was brought up somewhere else."
Knoche urges all students, faculty and staff to get involved with an international student, even if it is just for an hour a week or two hours a month.
"I think all it takes is one good friend," she said. "A lot of international people are very loyal, so they don't care about knowing 20 people. They really want one good friend so they can trust and open up to somebody."
As an international student from Prague who initially came to OU through a basketball scholarship, Knoche knows first-hand the value of a friendly face.
All ISSO programs and events are open to all OU students.
For more information about any programs or events, visit their office at 157 North Foundation Hall, visit their website at www.oakland.edu/isso, call (248) 370-3358 or email [email protected]
 Upcoming Events:
Sunday, Oct. 9 — Yates Cider Mill trip, 12-3 p.m.
Friday Oct. 28 — Halloween Fun Night, 4-6 p.m. in the Banquet Rooms, OC
Friday, Nov. 11 — Second International Food Night, 5-6:30 p.m. in the International Village (student apartments 4000)
Friday Nov. 18 — Thanksgiving Party, 5-6:30 p.m. in the International Village
Friday, Dec. 2 — Holiday Party, 4-7 p.m. in the International village
All events are open to all OU students, faculty and staff.