Walk for a good cause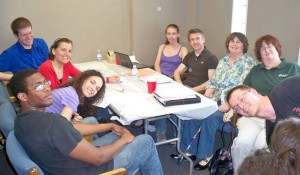 Oakland University's student organization, Students Making A Difference In Society, and Oakland Community College's Student Mentor Program collaborated this summer to organize the first annual Oakland-to-Oakland Health Walk/Run, which will take place on Oct. 15.
Registration is now open for everyone and last-minute registration will be held on Oct. 15 from 7-9 a.m.
The 10K run starts at 9 a.m. and will loop around OU and Meadow Brook Theatre, then continue to OCC and return back to OU. The 5K walk starts at 9:30 a.m. and will go around Pioneer Drive to Meadow Brook Theatre, then to Squirrel Road and back.
Each year, organizers plan to alternate the starting point between OU and OCC, which will give both schools exposure to the event and encourage them both to participate.
"It's purely student-run," Cody Kearse, a member of the Oakland-to-Oakland planning committee and counseling graduate student at OU, said. "The administration from both sides has been really helpful. So far, we have gotten a really good response from both schools. The OCC and OU student involvement is pretty even."
Oakland-to-Oakland was founded by Vishnu Ramsamy, a graduate student studying counseling at OU. He was able to create an event bonding the two schools together because of the strong ties he has with OCC.
Not only will the event strengthen the Oakland community by bringing together two schools, funds will go directly toward the Gary Burnstein Community Health Clinic, a strictly volunteer clinic for those without insurance.
In 2003, Ramsamy suffered from a viral infection after gallbladder surgery, which caused all of his organs to start shutting down.
For the past few years, the Gary Burnstein Community Health Clinic helped him obtain his medication.
After undergoing two strokes, plastic surgery, physical therapy and learning to walk again, Ramsamy is aiming to give back and bring together the community through the Oakland-to-Oakland event.
"I wanted to pick a cause that meant something," Ramsamy said. "I decided to create a walk that will involve students from both schools to do something that is meaningful and rewarding."
Oakland-to-Oakland offers a support system to those in need of medical assistance. It is a way to promote health, wellness and charity and build strong relationships within the community.
Ramsamy is truly thankful for the clinic's held and can't wait to do the same for others.
"It doesn't take much," he said. "It just means us coming together and wanting to make a difference."
To register for the event and for more information, visit the official website at www.oaklandhealthwalkrun.org