Oakland women's soccer 3-0 in Summit League play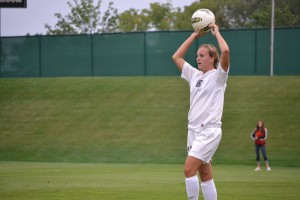 The Oakland University women's soccer team battled through inclement weather and a tough team at North Dakota State University as they earned their second consecutive victory, winning 2-1 at OU Soccer Field.
"It was a bit of a sloppy game for us," OU Women's Soccer Head Coach Nick O'Shea said. "Even though our passing was sloppy at times and we had a few turnovers we usually don't have, I don't think weather played much of a factor for us."
Oakland started off the match scoring two goals within 10 minutes. The first goal came from junior midfielder Abigail Haelewyn on a volley finish from 16 yards out off an assist from senior midfielder Marlen Knoph during the seventh-minute of play.  The score was Haelewyn's second goal of the year.
The Golden Grizzlies followed that up with another score coming in the 18th-minute of play  off a rebound save by Knoph, who recorded her third goal and assist during the game.
"I just look to be a motivator on the team, talk well with the offense so we can create opportunity for combination plays like the one's we scored on tonight," Knoph said.
This game, like plenty of others throughout the season, proved to be a tale of two halves for the Golden Grizzlies.
After outshooting NDSU 12-1 during the first half, OU seemed to let up a bit, being outshot in the second half with North Dakota State flipping the script on Oakland with more pressure. This allowed NDSU to climb back into the game outshooting, the home team 11-6 in the second period.
"It would be great if we could get a string of games where we put two complete halves together, when you make a lot of subs it destroys the rhythm of the starters a bit," O'Shea said.
The Bison, coming out after the half with a more aggressive game plan, pulled them back into it while battling the rain as well. Their only goal came in the 77th-minute of play on a volley off a corner kick by freshman forward Lizzie Lucas for NDSU pulling the visitors to within a goal late in the game.
The Golden Grizzlies held off the late charge of team defense with blocks coming on several shot opportunities to give Oakland the slight edge in shots by a margin of 18-12.
Sunday, Oakland managed to shutout South Dakota State 1-0 to remain undefeated on the season. Oakland's sole goal came from forward Meghan Reynolds, while goaltender Shannon Coley blocked all three of SDSU's shots.
The Golden Grizzlies play next at Kansas City Friday.
—-
Contact Staff Intern Allen Jordan via email at [email protected] or follow him on Twitter @aj1218