Frisbees litter OU's campus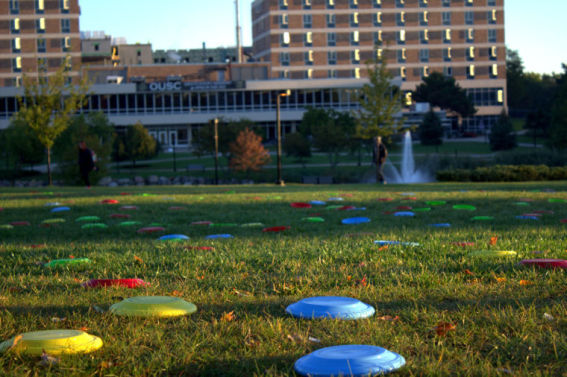 Little colorful disks littered Oakland's lawns as the Graham Health Center (GHC) dropped 1,000 Frisbees in an initiative to promote health, services and communications. 
Tossing it out there
In an effort to raise more awareness about the services the GHC offers, Dr. David Schwartz, the director of the Graham Counseling Center, and Julie Proctor, the Health and Wellness Coordinator at the GHC, used the Frisbees as a fun and active way to create buzz and conversation.
Frisbees were free for students to pick up.
The co-creators of the Frisbee drop believed that using the toys would also be a good way to get people to be active for a few minutes of their day.
"The secondary objective," Proctor said, "is to look on the backside of the Frisbee, where we have the different phrases and to start conversation between the students, and even between the staff and faculty about some of the things that we've said on the flipside of the Frisbee."
Reading around
Phrases on the back of the Frisbee ranged from "Leave bullying to bulls. Become Human" to quotes about dealing with anxiety and questioning your sexual orientation.
Some of them are more vague than others," Schwartz said. "Because we are trying to create a buzz and hopefully a conversation, and some of them are just trying to get out some helpful information."
"And hopefully people will come on campus today and start playing with Frisbees," he said.
Offering aid
One point that members of the GHC staff wanted to make clear through the Frisbee drop was that students get six free counseling sessions at the Counseling Center.
The GHC also offers free wellness coaching for established patients through referral from GHC staff members.  Additional services that the center offers include, but are not limited to, treatment for minor illness and injuries, sexual health services and immunizations.
 Give it a whirl
Students across campus gave reactions to the Frisbees.
"I like the sayings on them," Health Sciences major Rebecca Waggener said. "It's good advertising for anything."
Marketing major Colton Lewis also enjoyed the fun way to create buzz about the GHC.
"I think it's a good interactive idea," he said.  "It gets people talking.  I think it's good that it's outdoors and interactive.  I think it's really cool."