Senioritis: Definition, symptoms and tips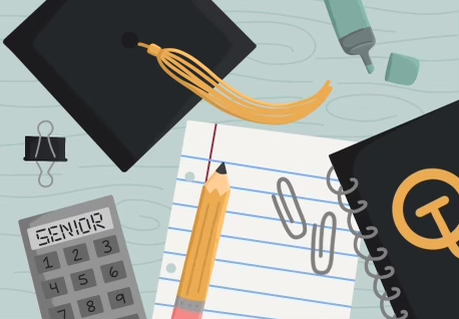 We all have heard of it. Many of us thought it was a myth, and many had already heard scary stories about it.
Our college experience is going well until the last two semesters kick in and assignments and projects become infinitely more overwhelming, and our motivation gets shadowed by the excess of sleep deprivation. This is what we call: Senioritis. 
This is still an informal term, but it's as real as it could be. Dictionary.com defines Senioritis as "a decline in motivation or academic performance that supposedly afflicts some seniors in high school, especially in their last term." 
While the term is widely studied for high schoolers, we college students can testify that it works very similarly for us. 
In college, students' senior year doesn't fall short of the amount of tension or pressure. While in high school, you are dealing with college applications. In college, you're dealing with life plans.
Senior year is the time when everything has to come together. Students are encouraged to do internships; projects have to be concluded; credits have to sum up to fill all requirements.
Then, there is always the doubt of what comes next: a full-time job, graduate school, another major, a gap year, none of this or even all of it?
For many, it is the season to make the most out of what college can be. But each of us has a different perspective of what that looks like. 
For some, this is the season to enjoy the friendships you nurtured along the way. For others, it's the time to finish good projects, extracurricular activities and grades.
Mentally, our senior year can be a lot. But meanwhile, our class schedules and responsibilities are in full swing. 
"Some students may find themselves with only one problem: finishing the year without mentally checking out," Anayat Durrani wrote for the U.S. News. 
Keeping up with everything while graduation is so close might be more challenging than we think.
"I would describe it as seeing the finish line and realizing you don't necessarily have to work as hard anymore to reach it," Abby Tincher, Southern New Hampshire University (SNHU) academic advisor, said to Ashley Wallis. "The loss of momentum and motivation leaves students hoping they can float through to the end."
To help you navigate through this intense and unstable moment, here are some symptoms you should be aware of: 
Lack of motivation to attend class / consequently skipping it

Procrastination

Lack of interest in studying

Having a hard time learning/doing assignments

Drop in grades

Exhaustion and Tiredness 

Burnout from decision-making 

Excess of indecisiveness 
But don't worry — you got to the final stretch of all this. While overwhelming, this moment can be incredibly rewarding.
Here are some tips to make the struggle days easier: 
Focus on the end goal:

Graduation is almost here. Besides being a great accomplishment, you will finally be able to be the professional you envisioned in the first place.
Don't deprive yourself of fun:

Balance is always the key to success. While the schedule might be busy, you can always take an hour or two to do something you like or see a friend. 
Welcome small changes:

Now might be the time to change some small habits. For example, sitting on a chair to study for two hours might not be as manageable as it was before, so try a new study spot or a new playlist.

Schedule a study date with a friend — company is always a great motivation. Small changes might be a huge success. 
"Rather than viewing senioritis as a burnout phase, high school students should continue to develop their strong study habits and carry them into college," Eric Eng, founder and CEO of AdmissionSight, a college admissions consultancy in California, said to Anayat Durrani.
Stay organized and on schedule:

Everything you can do to reduce stress might be the best route to follow. Instead of stressing over a late assignment, get organized and ahead of the game. Senior year has a lot of events and dates you need to meet, so a calendar might be your best friend. 
Be transparent:

Talk! Be transparent with your professors and explain your commitments and struggles. They know how this works and might even be willing to help somehow. Talk with friends. Let them know what is going on. They might have solutions for your struggles, or again, some company might be what you are missing. 
"Finding a healthy outlet for stress and anxiety will help you finish your senior year strong," National Association for College Admission Counseling (NACAC) advises high school students with advice also applicable to college students. 
Reward yourself:

You are almost there! Celebrate the small steps. Every assignment submitted, an attended event, concluded meetings or anything in your schedule and plan is a step in the right direction and closer to graduation. So, reward yourself with minor or even big things — your favorite coffee, a chocolate bar, an hour of gaming or anything that makes you happy. 
The most important thing to remember is, "we are all in this together!" If you didn't get that reference, please go through the Disney+ archives the next time you decide to watch a movie.
Fellow seniors, good luck with your final and last month of class! I'm looking forward to seeing many of you at commencement.