OU introduces Taiwan study abroad program with Dong Hwa University
Students interested in studying abroad will now have the opportunity to select Taiwan as their destination, thanks to a collaboration between Oakland University, Howard University and Taiwan's National Dong Hwa University (NDHU).
NDHU reached out to the two American universities earlier this year, proposing the three institutions apply for a Taiwanese government grant to cover tuition costs for American students to study in Taiwan. Their proposal was successful, and a three year, $100,000 grant was awarded.
This partnership — the first to ever be forged between OU and Taiwan — acts as a replacement for OU's previous Chinese language study abroad program based in Beijing. This swap comes amid an apparent national shift enacted by study abroad programs across the US, with many institutions — such as Harvard University — relocating their Chinese language study abroad programs from China to Taiwan. This shift is reflective of the increasingly strained economic and political relations between the US and China, as well as the latter country's isolating response to the global pandemic.
Program Director Hsiang-Hua (Melanie) Chang is an Associate Professor of Chinese in OU's Department of Modern Languages and Literatures. While she praises the quality of OU's previous Beijing partner university, she feels optimistic about engaging students with Chinese language and culture and introducing them to Taiwan through one of the country's most prestigious universities in this new program. She encourages students to be cognizant of not mistaking Taiwan's smaller circumference with lesser importance.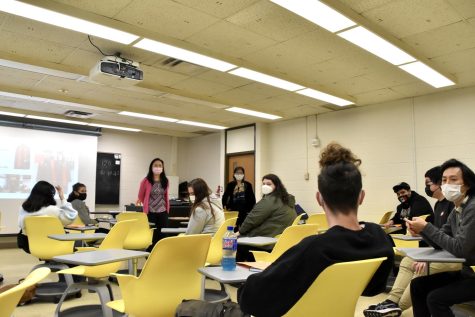 "Taiwan has always been a very important trading partner with the US," Chang said, referencing the country's eighth place foreign trade partner ranking, "so even though it's not a huge country, it's very important."
A native of the island herself, Chang also promises students a plethora of valuable cultural and natural experiences on their trip.
"All the nature, culture and language is very different from what we have in Michigan, so I really think this is a wonderful opportunity for our students," Chang said. "You can find anything you want in Taiwan — you can find a high island, coral reefs, and even volcanoes. […] You can find a lot of natural wonders, no matter the high mountain or the deep sea!"
According to the program's page on OU's International Education website, NDHU offers "cultural tours" aimed at exposing students to these natural and cultural wonders of the nation. The university's main campus in ShouFeng, Hualien itself is located just six miles from the Pacific Ocean, a token of this aforementioned change in scenery Michigan students can anticipate.
The program's duration is a total of 15 weeks — the first three of which will be dedicated to quarantine. Participants will then spend 12 weeks within Chinese Language and Culture courses, spending three hours in the classroom each day, five days a week. Previous knowledge of Chinese studies is not required — beginners classes will be offered, and those with experience will be assigned to classes according to the results of a placement exam.
Chang cites the June through Aug. summer program as being most popular amongst students, the deadline to apply for which is Feb 1, 2022. With tuition and housing covered by the grant, students are only responsible for the cost of their Visa and airfare — the total of which is estimated by the program to be around $2,000.
"$2,000 to live in a foreign country for three months and bring back 12 OU credits? That's really amazing," Chang said, extending her sincere gratitude to NDHU for making this opportunity possible for OU students.
Emphasizing the ability of these credits to count toward graduation whether used toward a specific program or as free electives, Chang hopes that all students will consider partaking in this program — not just those currently enrolled in Chinese courses. 
"Basically, [you just need] a quick curiosity for the world and [an interest in] the Mandarin and Chinese language and culture," Chang said. "Having a study abroad experience in an Asian country — which is completely different from the American experience or the European experience — is very precious. It will be life-changing."
Students interested in applying to this program may do so at https://oakland.edu/ie/ou-programs/chinese-language-and-culture-in-taiwan/. For more information, contact Chang at [email protected].