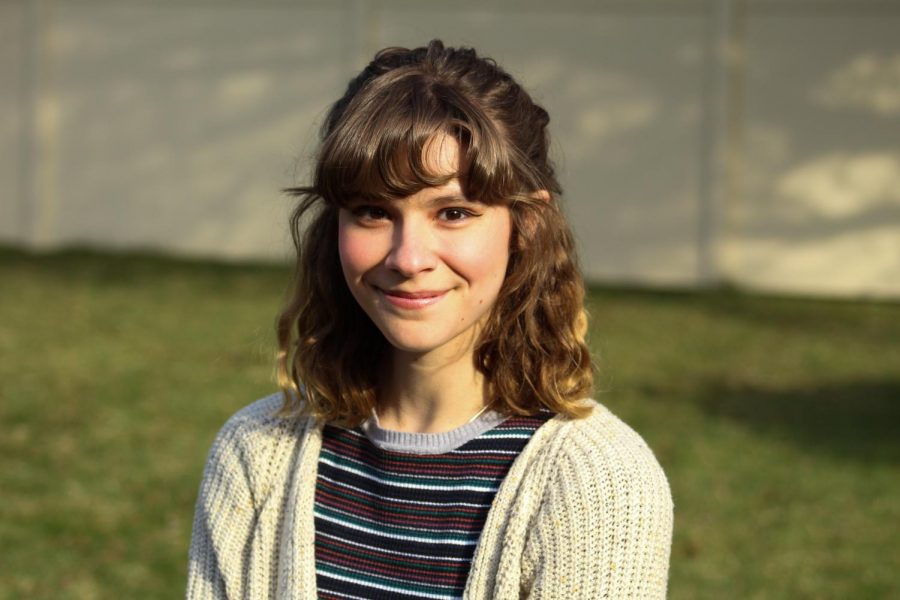 Nicole Morsfield
is the photo editor of The Oakland Post.
A senior at Oakland University, Morsfield joined The Post in 2017 as a photographer before stepping in as photo editor for the 2019-2020 academic year.
Morsfield most enjoys photographing arts and entertainment, and her love of theatre has brought out her best work in photographing some of Oakland's theatre productions. She also loves meetings and photographing interesting people in Metro Detroit with unique hobbies, skills and businesses.
In addition to her work with The Post, Morsfield reported on-screen with OUTV's morning newscast "Hey OU" from 2016 to 2018. She has also freelanced for The Oakland Press, photographing behind the scenes of Meadow Brook Theatre's annual production of "A Christmas Carol."
Morsfield is pursuing a Bachelor of Arts in journalism, with minors in studio art and digital media production.
Nicole Morsfield, Photo Editor
Oct 02, 2019

Anthropology professor deploys drones to fight disease in Africa

(Media)

Sep 25, 2019

Satire: Area 51 through the eyes of an undercover Kyle

(Story)

Jun 11, 2019

Board of Trustees unanimously approves tuition increase, new health sciences degree

(Media)

May 09, 2019

Comedians Ramy Youssef and Dave Merheje are "redefining the expectations" of Muslim representation with new Hulu series

(Media)

Apr 10, 2019

Andy Meisner speaks to the College Democrats at OU

(Media)

Apr 10, 2019

OU one of few Michigan public universities to show student enrollment growth

(Media)

Apr 03, 2019

Writing Center members to present at regional writing center conference in Dayton, Ohio

(Media)

Apr 03, 2019

Construction resumes on Walton Boulevard, creating problems for campus commuters and residents

(Media)

Mar 27, 2019

Exhilarating rock opera 'The Who's Tommy' will tug at your heartstrings

(Media)

Mar 27, 2019

Elizabeth Smart comes to campus

(Media)

Mar 20, 2019

Professors, students to showcase work at fifth CETL Instructional Fair

(Media)

Mar 16, 2019

Student Congress president candidates discuss diversity, representing students, parking issues

(Media)

Mar 13, 2019

The 24th annual brain awareness week looks at research and advancements

(Media)

Mar 06, 2019

Professor receives telegram 50 years late

(Media)

Feb 27, 2019

School of Business Administration's business and accounting programs receive AACSB-International accreditation renewal

(Media)

Feb 10, 2019

Curtis Armstrong donates acting memorabilia to library archives: The alum visited classes on campus and reminisced at evening event

(Media)

Feb 06, 2019

Meet Meta Kern, Oakland basketball's biggest fan

(Media)

Jan 31, 2019

Swim and dive coach is a Michigan Hall of Famer

(Media)

Jan 24, 2019

OUCARES director wins Oakland County 40 Under 40 'Best of the Best'

(Media)

Jan 23, 2019

Keeper of the Dream — speaker Jeff Johnson explores Dr. King's legacy, achieving equity

(Media)

Jan 23, 2019

Familiar face becomes first doctoral graduate from School of Education and Human Services

(Media)

Jan 09, 2019

OU environmental health and safety program ranked among top in United States

(Media)

Dec 05, 2018

Meadow Brook Holiday Walk lights up campus with holiday cheer

(Media)

Nov 28, 2018

Professor uses life experiences for teaching career

(Media)

Nov 14, 2018

From tiaras to textbooks: how one OU student juggles it all

(Media)

Nov 13, 2018

Pescovitz focuses on making OU the first choice for an increasing number of students in the State of the University address

(Media)

Nov 07, 2018

What's your morning brew really doing to you?

(Media)

Oct 31, 2018

Golden Grizzlies' Food Pantry celebrates grand opening

(Media)

Oct 31, 2018

OU criminology professor helps promote justice for women and girls

(Media)

Oct 24, 2018

DSS hosts disability awareness exhibit

(Media)

Oct 16, 2018

Wadsworth promoted to Interim Dean of Students

(Media)

Oct 16, 2018

Statue of university founder is the newest addition to OU's art collection

(Media)

Oct 10, 2018

Board of Trustees looks at 2018 statistics, honors Guggenheim Fellowship winner

(Media)

Oct 03, 2018

How to avoid the freshman 15 at OU

(Media)

Oct 03, 2018

Creative writing experts teach students "how to succeed as a creative writing major"

(Media)

Oct 03, 2018

OU Feminists celebrate third annual Slut Walk

(Media)

Sep 25, 2018

SPB Drive-In provides entertainment despite setbacks

(Media)

Sep 25, 2018

Town Hall meeting on race relations in Rochester Hills sparks meaningful conversations

(Media)

Sep 18, 2018

OUWB faculty member receives prestigious OU "Dissertation of the Year" award

(Media)

Sep 18, 2018

Vet center moves to larger space in Vandenberg Hall

(Media)

Sep 11, 2018

Welcome Week Highlights

(Media)

Sep 11, 2018

Art Gallery showcases literature in a new way

(Media)

Aug 01, 2018

Carillon Series Rings in the Weekend

(Media)

Aug 01, 2018

New Living Learning Community for Honors College

(Media)

Jun 26, 2018

OU English professor wins the Chapbook Contest for her memoir, "Ink"

(Media)

Jun 26, 2018

The 'Antiques Roadshow' comes to town

(Media)

Jun 06, 2018

Animal assisted therapy offers a plethora of opportunity

(Media)

Jun 06, 2018

OU encourages faculty to get more involved with hybrid learning

(Media)

Apr 10, 2018

SATIRE: Why it's sometimes OK to abandon your hopes and dreams

(Story)

Apr 10, 2018

Dr. Terri Orbuch reveals the secrets to happy relationships in the workplace and beyond

(Media)

Apr 10, 2018

Writing and Rhetoric Department hosts 14th biannual Writing Marathon

(Media)

Apr 03, 2018

Healthology Symposium to study effects of upstream health

(Media)

Mar 06, 2018

OU alum opens new hot spot in downtown Rochester

(Media)

Feb 27, 2018

Former professor helps students take 'Next Step'

(Media)

Feb 06, 2018

Sexual assault, campus issues and more tackled at Ask Ora

(Media)

Feb 06, 2018

Muslims In America: The Canary In The Coal Mine

(Media)

Jan 30, 2018

Go Red Week previews heart-health initiatives to come

(Media)

Jan 23, 2018

The Bolivian Revolution comes to OU

(Media)

Jan 22, 2018

Womens basketball battles the Milwaukee Panthers

(Media)

Jan 16, 2018

OU celebrates "Voice Day"

(Media)

Jan 16, 2018

Construction continues in Oakland Center

(Media)

Jan 09, 2018

Imagining Rochester from the other side of the Atlantic

(Media)

Dec 05, 2017

OUWB raises awareness on World AIDS Day

(Media)

Nov 28, 2017

Lights brighten up local businesses in downtown Rochester

(Media)

Nov 14, 2017

"Jigsaw" makes for one-too-many installments in the "Saw" franchise

(Story)

Nov 07, 2017

Graphix OU shares knowledge of the Creative Suite

(Media)

Nov 07, 2017

Celebrating lost spirits for the Day of The Dead

(Media)

Oct 31, 2017

OU Embraces the Halloween spirit: Pennywise would be proud

(Media)

Oct 31, 2017

Dining, networking and learning at Career Service's etiquette dinner.

(Media)

Oct 23, 2017

The art of oral history projects

(Media)

Oct 23, 2017

Petition for overnight parking draws student support

(Media)

Oct 21, 2017

Getting to know Harold Scandrick II

(Media)

Oct 09, 2017

Club sports highlight: Vitality Dance

(Media)

Oct 03, 2017

OU's Second Annual Hackathon

(Media)

Oct 03, 2017

Profile: Krysteena Davis

(Media)

Sep 26, 2017

A day in the life of an OUWB student

(Media)

Sep 26, 2017

Oakland University Aids Veterans In Their Next Mission

(Media)

Sep 26, 2017

Integrated dance and cheer team: where are they now?

(Media)

Sep 19, 2017

Top 5 Restaurants to Try Around Campus

(Media)

Sep 12, 2017

The more the mania: Meijer Mania

(Media)

Sep 05, 2017

Student org profile: WXOU creating community on the air

(Media)

Aug 01, 2017

Youth summer writing camps at Meadow Brook mansion

(Media)

Aug 01, 2017

Technology tips for incoming freshmen

(Media)

Jun 29, 2017

How campus life changes in the summer

(Media)

Jun 29, 2017

Choral says 'Bon Voyage' with concert

(Media)

May 26, 2017

Integrated Cheer and Dance starts from scratch

(Media)

May 19, 2017

Theatre Preview – Wiley And The Hairy Man

(Media)