Hostel adds to city's revitalization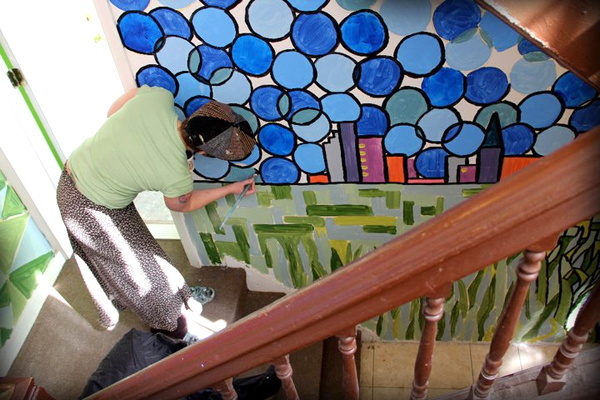 Detroit has not necessarily had a reputation as a tourism hot spot in recent years, but a group of young professionals are working to pull visitors into the city and show them sights they may not have otherwise experienced.
On April 17, Hostel Detroit will open its doors in North Corktown. Travelers to Detroit — both from Michigan and from other states — can stay in the hostel for between $20 and $25 a night.
The movement toward having a hostel out of a passion for "CouchSurfing" shared by Emily Doerr and her friends. CouchSurfing is a social exchange website where travelers can connect to find people to stay with when they visit other cities. The group noticed that an increasingly large number of people were traveling to Detroit and that there was not a cheap option for lodging.
"There's not a current avenue other than couch surfing for younger travelers to have a low cost option to come and explore the city," Kevin Ward, a volunteer at the hostel, said.
After getting encouragement from family and friends, Doerr decided to form a board and a committee to explore the possibility of starting a hostel in Detroit.
"There were so many visitors to Detroit, I knew that I wanted to make sure that they had a good experience accessing all the different amazing events and points of interest in the city, and I believe that a hostel will do that," Doerr said.
Eventually, the hostel organizers decided on a building at the corner of Vermont and Spruce streets. in the North Corktown neighborhood.
"Some neighborhoods in Detroit like Midtown and Woodbridge have made comebacks already," Ward said. "For North Corktown, it's definitely happening but it's still on the way. We wanted to be a part of making that happen."
Ward credits businesses like Slows BBQ and Sugarhouse Bar with also helping in the area's revitalization, which he considers a collective effort.
"Hostel isn't going to play the biggest role in the area's comeback, but it's something where the whole is greater than the sum of its parts," Ward said. "Our intended impact is that people will come see more of the city than just downtown or midtown."
Doerr ultimately sees the hostel as a medium for travelers to experience the rest of the city.
"There are a lot of different people and businesses that are playing a role in bringing more density and vibrancy to Detroit and Hostel Detroit merely wants to be a conduit for those things," Doerr said. "We will be an access point for people coming to the city, giving them maps and guides and lists and suggestions about what to do and where to go."
At the hostel, travelers get either a bunk or a private room, as well as access to a kitchen and bathroom. Additionally, the hostel will provide guides to the city and information about a guest's particular interests.
"We make connections for the travelers if they're not from the area," Ward said. "If they have a specific interest we find the people and make the connections for them. That's what makes us different from other places in the city, as well as from hostels in other cities."
One way the hostel provides information to travelers with specific interests is through the use of volunteer ambassadors.
"Volunteer ambassadors are people who love going into the city and talking about the city," Ward said. "If you have a love for Detroit, we'd love for you to be a volunteer ambassador."
Ward said some popular interests for Detroit visitors are urban exploration, the arts, urban gardening, cycling and volunteering. Recently, the hostel hosted a group of students from North Carolina on their college spring break as they volunteered both at the hostel and around Detroit.
Ambassadors provide information to hostel guests on these areas of interest, as well as taking them around the city to particular locations in some situations. Ultimately, the hostel aims to take its guests off the beaten path.
"For example, if someone is interested in the arts, there are obvious places to take them like the Detroit Institute of Arts," Ward said. "But there are also other cool places not on the radar to take them: Russel Gallery, Pop Up Detroit, other art galleries and then there are also murals around the city. It's about educating them and showing them more of the city than they would otherwise see."
"I would like to challenge every student at Oakland University to come stay at Hostel Detroit for at least one weekend this year," Doerr said. "It will be inexpensive, you can rent a bike, there will be a ton of stuff to do and it will be safe and secure … come explore this city."
To make a reservation or get information about Hostel Detroit, visit www.hosteldetroit.com