Evolving OU: Part II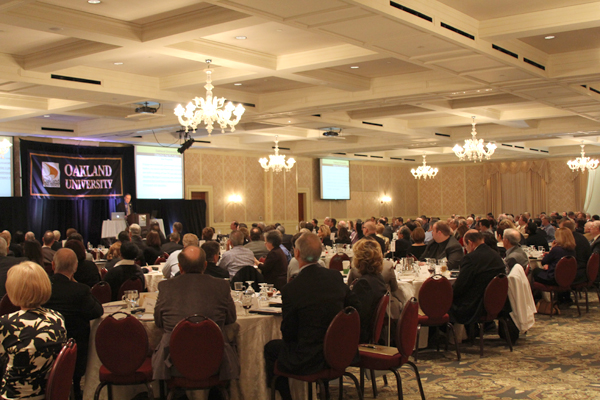 Almost 400 community and campus leaders gathered Friday at the Royal Park Hotel in Rochester for the Creating the Future II Summit. An idea first implemented in 1997 for strategic planning, the event was intended to generate ideas for building Oakland University and its brand.
OU President Gary Russi said during his State of the Campus address earlier this year that he hoped those involved with the summit would provide OU with ideas on ways it can support the community with the resources it has.
The morning session began with presentations from Russi; Jeff Williams, the CEO of the Public Sector Consultants research firm; associates from Tecker Consultants and Vice President for University Relations Susan Davies.
"I cannot thank you enough for helping us figure out how to interact with the community to make the community better and Oakland University better," Russi said to those in attendance. "We're here for one purpose: To have a broad dialogue about how OU can play a pivotal role in rebuilding Michigan's economy."
Williams educated conference-goers on the "environmental scan" his firm completed for the school and board of trustees last fall.
"There is incredibly intense competition for … everything you do," Williams said of the effect Michigan's economic climate has on higher education. "Competition will be at a level unlike anything you have ever seen before."
Williams and Russi agreed that competitive advantage was the key to attracting students, as tuition becomes the dominant earned income stream due to a 17 percent decline in state spending of higher education in the last decade.
Creating the Future participants were then asked to come up with solutions to answering questions about Oakland's competitive advantages and outlining what they would like to see the university do over the next decade.
"I'd want the university to be identifiable in the educational community because I want to live in a vibrant community," said Barbara Fornasiero, who has lived in Rochester Hills for 18 years. "We've really watched the school evolve."
Attendees provided a cross-section of the community and included alumni, business and industry leaders, elected officials, university administrators, deans, faculty members, university trustees and currently matriculated students.
Audience reactions were gauged through the usage of electronic voting devices that gave instantaneous feedback and put responses up on large presentation screens in a similar way to the "Who Wants to be a Millionaire?" game show.
A pre-survey was sent to hundreds of people invited to the event. Those who could not attend were invited to complete the survey and results gathered during the summit were compared to pre-survey answers.
Russi first introduced the idea of this second summit at the June 29, 2010 board of trustees meeting. Facilitators were assigned three tables to oversee and organize. Each table was instructed on the organization of the event and how to use the technology available to them.
"It's all hands on deck with an event like this, " said Chad Thompson, the coordinator of athletics annual giving and facilitator for the day.
Seating was strategically organized to allow for a variety of people to engage in conversation with those not in their field. Organizers tried to place at least one student and an "insider" — someone involved internally with OU — at each table in order to give insight to those who may not be as familiar with university operations.
Students and alumni made up 42 percent of those in attendance.
In comparison, the first Creating the Future initiative in 1997 involved over 300 people who were organized into nine task forces. The report was given to the board of trustees in June of 1998. It was designed to aid the university in setting goals for 2010. The recommendations gave the board a basis for its work the following year and the goal of this year's summit is to produce similar results for its 2020 campaign.
Summit attendees were asked to come up with a metaphor for Oakland's status as a higher learning institution in the form of a mode of transportation.
"There have been a fair amount of diverse views," Fornasiero said. "There's a very open and trusting dialogue and we could all say how we felt."
Answers ranged from describing OU as an elevator or hot air balloon to a minivan or mid-size car. Russi came up with the metaphor of a jet plane.
Each group also had to figure out what implements they would add to their "vehicle."
The exercise was designed to gather ideas and figure out ways to elevate the profile of the university.
Williams advised those coming up with ideas to "find a market niche and own it."
The activity also served as a branding exercise.
"Brand will be the result in the success of implementing our strategy: A brand is not something an organization defines and declares," Glenn Tecker said. "It is the promises you make and keep — brand is more than a logo."
When it comes to one specific logo, though, 16 percent of the conference room wished that OU had stayed with its nickname of "The Pioneers."
Another topic of perpetual consideration is the idea of creating a Div. I football program. Director of Athletics Tracy Huth  said he is asked constantly about the possibility, but the issue was not considered a key topic by guests.
Attendees were asked to consider all the information they heard to create unique strategies for the bettering of the school during the second half of the summit. Each group was asked to explore a different topic area and to explore outside their usual areas of knowledge.
The top three themes zeroed in on were energy, the changing economy and demographics and healthcare. Many groups wanted to see OU become a resource for businesses, achieve prominence and stray away from being perceived as a commuter school.
Tecker provided a list of 10 areas gathered from the results of pre-summit survey results, though one table created the topic of innovation and entrepreneurship.
Optimism was displayed by guests, most of who believed the general business and economic climate will be growing in 2020 and that Oakland will become a prominent national public university.
Williams said it was likely that it would be true because of the schools "blank slate" for branding.
"We are a new, young university," Russi said. It is a theme he has spoken of since his January State of the Campus address.
Packets were collected by the Tecker team, which will be compiling the ideas brainstormed at the meeting.
"This is only the first step in refining Vision 2020," Leigh Wintz said of Russi's strategic plan for the decade.
The event lasted seven hours and university leadership commended those who participated for their help in bettering the university and community.
"It means we all want to make a difference in Michigan," Davies said.