Recreation Center offers range of classes to reach fitness goal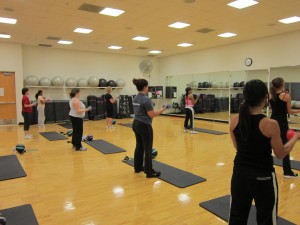 A new year brings pledges to lose weight, firm up in time for that trip to the beach or to be more active.
With free membership for students, the Oakland University Recreation Center has a variety of classes and programs to help students accomplish their personal fitness goals.
In addition to personal training, the  center offers several group exercise to target a variety of areas throughout the body.
Director of Programs Becky Lewis said students are particularly attracted to the fast-paced, dance oriented Zumba class.
"With Zumba, it's fun," he said.  "When the classes are fun, it doesn't feel like you're working out."
For those who haven't been to the gym in a while, the staff recommends Zumba, hip-hop dance and belly dancing courses.
"Students should not be discouraged in participating because of their fitness level," said Fitness and Wellness Graduate Assistant Leah Dupuie.
Our instructors do well in offering modifications for those who may need them."
Although gym members may work out regularly, they may eventually hit a wall,  and not be able to progress past a certain point in their goal.
When this happens, the recreation  center staff recommends switching it up.
"The overall goal for fitness is what we like to call 'muscle confusion' Fitness Coordinator Rachelle Winkler said. "If you have been doing the same workout routine week after week, and do not feel sore after your workouts … these are all signs that tell you that it's time for a change up."
A different workout style might be what is needed to get back on track.
General access to the recreation center is free and open to all students. For more information, visit the Recreation Center or their website at www.oakland.edu/campusrec
Contact staff reporter Kevin Graham via e-mail at [email protected] or follow him on Twitter @KevinGraham88