Behind the scene with MTV's 'Teen Mom'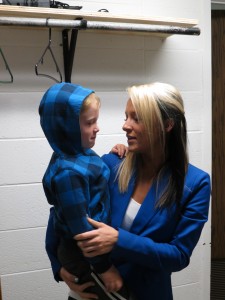 At a time when teen pregnancy is at a record low, according to a Center for Disease Control's report, Maci Bookout's lecture about her  teen pregnancy seems to come at a time when dialogue about such topics seems to be opening up.
Her speaking engagement on April 16 was the first time she brought her son, Bently too.
Following the lecture, Bookout answered questions from audience members and met with fans, who recognize her from  MTV, for photos and autographs.
Maci's story without cameras
To a crowd of over 400 people, Bookout told her story, beginning with what life was like before she got pregnant. She was looking forward to playing softball in college.
Maci explained her experince about being a mom and MTV.
"I actually had to talk him into having sex," she said.
According to Maci, she spent 37 hours in labor.
"It's cool hearing her actual story from her point of view instead of just watching it on MTV," Stacy Johnson, a junior majoring in business, said.
As a self identified "non-people person," Bookout said it is strange that her fans feel like they know her, even though she enjoys meeting them.
"I really just like to be able to have, like an open conversation with people my age," she said. "I feel like it makes a much bigger impact on them when their peer is doing it rather than someone who's like a parent, or a teacher… It's just fun. It's like I'm hanging out with my friends."
Plans for the future
Bookout said this current season will be her last on MTV's Teen Mom. Since quitting, she said many opportunities have come her way.
"I'm ready to move on," she said. "I'm not a teen anymore and I'm ready to focus on me, Bentley, school and my career."
She is currently studying media technology and creative writing.
Bookout did not  disclose on  her future plans.
Fans respond
Alex Krum, 23, attended the lecture with her brother Devin, 22, and two-year-old son Blake. Although a little older than Maci, Krum was able to relate to her through the experiences Maci went through.
"Being young and having a child makes you mature very quickly," she said.
Devin Krum explained he likes to do anything that helps out in taking care of his nephew. He also acknowledged watching "16 and Pregnant" and "Teen Mom."
Contact Senior Reporter Sarah Hunton via email at [email protected]