Construction for new Engineering Center to begin in January 2013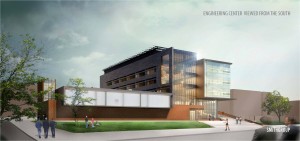 By Misha Mayhand
October 24, 2012
Construction for the new $75 million Engineering Center will start January 2013, according to Louay Chamra, dean of the School of Engineering.
"In December, right after classes and finals are complete, a fence will be put outside of the area where construction will take place," Chamra said. "Construction will start in January 2013 and the idea is to hopefully deliver in July or August of 2014."
He said the new building will reflect his number one priority since he's arrived at Oakland University — to make it a student-friendly university.
The new building will be more student-oriented as far as activities, and encourage students to spend more time on campus and the building.
"Hopefully this building and other initiatives on campus will make it such a way that the student's feel like they belong to the campus," Chamra said.
Making things greener
Chamra hopes the new building will bring a lot of innovation to the university, especially with energy conservation. He said he thinks it will be the first building on campus to generate its own power.
"This is a great achievement in terms of being disconnected from the grid of the entire campus," Chamra said.
There will be a mechanical system surrounded by glass enclosures so students can see what's going on, as well as a display near the entrance of the building educating students on light usage, power consumption and gas usage, according to Chamra.
He said with the building being "off the grid," Oakland will have one less building to worry about as far as expenses and it makes them more independent.
"No matter what happens with the weather or if destruction to the grid occurs, we will not be affected," Chamra said.
Expanding learning space
His main goal is making the building a "living lab" for students.
"Students will be able to learn both in the classroom and outside of the classroom," Chamra said. "We are creating a new building not only for space but for updates as well. There are a lot of outdated labs."
Currently, the School of Engineering is divided across three buildings — Dodge Hall, the Science and Engineering Building and Hannah Hall.
"We don't have a true home that we can call the 'School of Engineering and Computer Science'," Chamra said.
The School of Engineering is responsible for 50 percent of OU research and external research funding, according to Chamra.
Chamra said he hopes the new building not only increases enrollment, but retention and graduation rates as well.
"The new building will be able to hold 70 faculty, we currently have 55, so we are anticipating expansion," Chamra said.
The new building will hold up to  2,500 students and there are currently 1,700 students enrolled in the school.
Vacating and renovating
Once the new building is complete, Chamra said the School of Engineering will have to vacate its space in Hannah Hall, the Science and Engineering Building and a few areas in Dodge Hall.
"We will keep 50 percent  of Dodge, but everywhere else we will have to vacate," Chamra said.
Chamra said he doesn't look at it as "moving out," he says it will just be an expansion.
"The spaces that will be vacated have already been divided up for renovations of labs and general purpose classrooms," said Terry Stollsteimer, associate vice president for Facilities Management.
He said those renovations will not start until August 2014 and should be complete in January 2015.
"We have to plan these things out in advance they just don't happen overnight," Stollsteimer said.
Contact Multimedia Reporter Misha Mayhand via email at [email protected] or follow her on Twitter @MishaMayhand