Students work to create university yearbook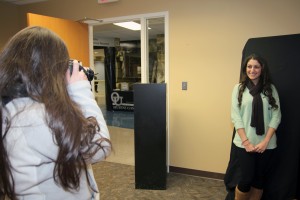 The Yearbook Club of Oakland University plans to give students a book that chronicles the major events in a year of the college experience.
The group's treasurer, Jibran Ahmed, a junior majoring in international relations, said one of the major reasons for starting the club was a desire to give students a lasting memory of their time at the university. 
"This is a great university with a lot of wonderful events and memories taking place, so it's only fair to offer students a means of preserving the golden moments  they experience here," Ahmed said.
Ahmed said other schools such as Central Michigan University and the University of Michigan have had yearbooks for many years, and it was time for OU to get one.
The group will produce its first yearbook next year because they want to do enough fundraising to start to keep themselves stable.
Making sure the group has financial stability is important to the organization's president, Brittany Hall, a junior majoring in communication.
"We recently, with the help of (Director of the Center for Student Activities) Jean Ann Miller, discovered  there was actually a yearbook at Oakland University for quite a few years," Hall said. "Unfortunately, it was not a long-standing project and it didn't reach our generation."
Putting it all together
One  challenge to producing a yearbook on a college campus is the  volume of events and how to cover them.
"You would be surprised how many people are willing to reach out a helping hand and jump on board with us," Hall said. "It's going to be a communitywide effort, that much I can promise. It isn't about popularity anymore, it's about real students who deserve real coverage."
Although they did not want to reveal too many specifics with publication this far ahead, Hall said the yearbook would feature nods to the past.
"We plan on doing a double-book that will feature pictures from the old Oakland University yearbooks," Hall said.
It's important to both Hall and Ahmed to bring something fresh to the picture in the book's production.
"We want to show how unique Oakland is," Ahmed said. "There have been so many changes in the past 20 years, and we want students to have an awesome yearbook that is more than just pictures on a page. We're going to offer up the history of the university in a fun and inspiring way."
Contact Senior Reporter Kevin Graham via email at [email protected] or follow him on Twitter @KevinGraham88