Bringing 'Flavor' to Sterling Heights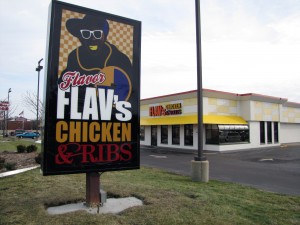 Flavor Flav's Chicken and Ribs, located in Sterling Heights, offers a variety of home-cooked menu items.
According to Men's Health Magazine, 53-year-old Flav (William Johnathan Drayton Jr.), founder of Public Enemy with Chuck D and former star in the VH1 reality series "Flavor of Love" and "The Surreal Life" went to culinary school. His father ran a soul food diner when he was growing up.
'The chicken you crave'
Chris Small, director of marketing for restaurant and hospitality management group Forza Development, said food quality should set Flav's apart.
"Everything is made in-house, fresh, by chef Craig," Michael Mazzenga, operations coordinator at the restaurant said. "He's designed our menu from top to bottom. The one special thing is the seasoning for our chicken, which is actually Flav's secret recipe. He brought that to the table and it is fantastic — it's the chicken you crave, perfected by Flav."
Recipes are made in collaboration between Flav and the restaurant staff, led by kitchen manager Craig Szmigiel.  Szmigiel said all of the chicken, and the ribs are cooked with sauce or dry-rub.
"It's pressure-fried. It's definitely different from a standard fryer, an open fryer," he said. "The broaster actually pressurizes the chicken, seals the coating on it and locks in the moisture on the inside of the chicken."
The menu includes, but is not limited to, smoked ribs with Flav's homemade dry rub or sauce, mashed potatoes with gravy, baked macaroni and cheese, fresh-cut fries, broasted chicken and sandwiches.
"My personal recommendation has to be the barbeque sandwich — chicken with our house barbeque sauce — but the thing that makes it a little different is the cole slaw on the sandwich," Mazzenga said. "It's a really nice fresh flavor."
Fans of Flav's food
For many fans, this was not their first trip to the restaurant.
"This is our third time here and we got carry-out earlier," said Marlene Cydetko, Sterling Heights resident. "We had chicken, mashed potatoes and gravy and green beans, and I love it. The ribs are also to die for."
Workers at Flav's say they like the atmosphere.
"Honestly I love it here," worker Cody Davis said. "When I first heard about it, I thought it was a neat idea to see someone like Flavor Flav open up his own restaurant. I like chicken and ribs personally, so of course I'm going to like working here. All the staff is good — everyone is nice to each other and we all work as a team."
Flav visited the restaurant twice — once during the grand opening on Dec. 21, 2012 and again last weekend, according to Mazzenga.
"We're anticipating having (Flav) here probably a weekend out of every month," Mazzenga said. "He's very emotionally involved in everything we're doing. He's not your typical Hollywood. He talks to everyone, won't let a kid leave without an autograph. He was way different than I anticipated."
Looking to the future
Owners bank on hope that it will do better than two previous franchises backed by the entertainer. Small thinks the new location will help them avoid a similar fate.
"I would say demographically, being in Sterling Heights, which is the fourth-biggest city in Michigan, that was a huge part in declaring where we're going to put our restaurant," he said.