Students fight widespread flu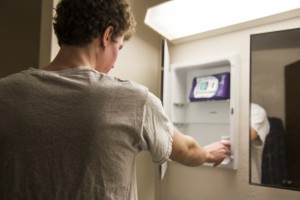 It's a common sight — students coughing, having to walk up to the professor's desk a little too often to get a tissue and looking like they'd rather be in bed.
These are the telltale signs of flu season.
Every year, the coming of the season brings with it a set of questions — how prevalent is it, what can be done to prevent it and what to do if we get it?
Flu statistics
Nancy Jansen, director of Graham Health Center, said the flu is having a bigger impact right now than it did this time last year.
"There's some increase in the clinic here, and I'm hearing reports from departments that there is more flu-like illness," she said.
There have been seven cases of flu-like symptoms such as fever, chills and aching causing people to go to the emergency room in the past week in Southeast Michigan, according to data provided by the Michigan Department of Community Health as of Jan. 17.
Statewide visits to healthcare providers showed 4.5 percent of visits were due to influenza-like activity. That number was 2.8 percent for Southeast Michigan. Both bodily and respiratory alerts have increased compared to this time last year.
Bob Ortlieb, a spokesman for Beaumont Health System, said visits to Beaumont's Royal Oak campus had increased significantly, due in large part to influenza.
"In the last 10 days, our volume of patients that we see at our emergency center in Royal Oak has increased 25 to 30 percent," Ortlieb said. "Of that, each day we're seeing a couple of dozen flu cases, where we are confirming that the patients indeed have a strain of the flu."
Oakland County Health Officer Kathy Forzley said there has been an increase in flu-related activity over this time last year in the county.
"We don't really have any idea in terms of numbers other than when we hear from hospitals that they're getting a surge because more people are coming into the ER or being admitted for flu," she said. "We know those things are happening."
Forzley said although high flu numbers are hitting earlier this year, in the past, they've seen flu numbers peak as early as October and as late as May.
Bill Ridella, director and health officer at Macomb County Health Department, said although they are not tracking cases, there are several indicators that the flu is having an effect in the county.
"We are seeing more people that are coming into emergency departments and hospitals and doctors' offices and also absenteeism from school," said Ridella.
Prevention
The best way to protect against flu is to get vaccinated.
"The strains that are on this year's flu shot are a very good match to the strains that are circulating in the community," Forzley said.
Flu germs can survive on surfaces up to eight hours, according to estimates from the Centers of Disease Control.
Jansen pointed out that the flu shot does not have immediate effect.
"It takes up to two weeks for your body to develop more antibodies toward that specific virus," she said.
For those that have not yet been immunized, Jansen recommends the following:
– Wash hands often with soap and water or alcohol-based hand rub
– Try to frequently clean surfaces commonly touched by multiple people
– Don't sit by someone you think might be sick (six foot rule)
– Get enough sleep, exercise and eat healthy
If you have the flu
The major sign of flu is fever. Jansen said students can get disposable thermometers at the Graham Health Center.
"A temperature of 100 is a red flag that you may have the flu, especially if it came on suddenly and you're achy and really tired," she said.
If people come in within 48 hours, antiviral medication is available to treat the flu, Jansen said.
Contact Senior Reporter Kevin Graham via email at [email protected]