Motor City Tattoo Expo brings ink to Detroit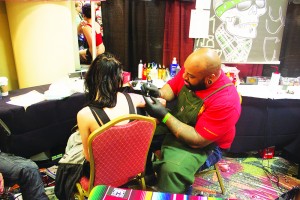 Humming and buzzing from the sound of tattoo guns was heard constantly at the Detroit Marriott last weekend, as the Motor City Tattoo Expo welcomed people to more than 50 artist's stations.
Excitement and intimidation hung in the air as patrons rushed from booth to booth looking for their next piece of body art. Others were at the mercy of a needle – being strong and solemn while passersby watched.
Contests, vendors and alcohol were among the event entertainment. Rockstar Energy Drink Inked Up World Tour made their presence known at the expo, attracting a sizable crowd with drinks and hype, they also sponsored tattoo contests with categories for all types of ink.
"I've been coming to this (event) for years and I'm always impressed by the turnout," said Chris Manga, a patron and tattoo enthusiast.