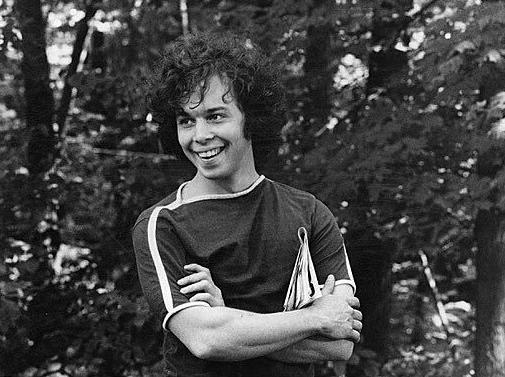 Curtis Armstrong wasn't always an actor on TV and film, cementing his name in timeless classics and starring alongside some of Hollywood's biggest names. He was once an aspiring actor at Oakland University, performing in plays produced by Meadow Brook Theatre and studying at the Academy of Dramatic Art (ADA). 
Armstrong was born in Detroit and lived in Switzerland for a few years before returning to the area. He attended Anderson Middle School, where his aspiration to become an actor developed from his first mentors – his teachers.
"At Anderson, we had a teacher for speech and drama named Will Young," Armstrong said. "Will was an actor – a professional actor who had started a family, so he was teaching… so he was the one who really inspired me at that age, like, ninth grade."
Armstrong then started pursuing anything and everything involving dramatic acting. He attended Berkley High School, meeting two more teachers who were vital in developing the actor Armstrong is known as today. 
"When I went up to Berkley High School, Dwayne Thompson was there. He was one of the two drama teachers, and then there was a speech teacher named Peggy Metzger," Armstrong said. "I think that they saw that I didn't have a lot going for me except this [acting]… these were people who really set that fire."
Through Thompson, Armstong discovered the ADA at OU. Established by John Fernald of the Royal Academy of Dramatic Art (RADA) in London, the academy ran as a counterpart to Meadow Brook Theatre, existing from 1967 to 1977. 
Despite the school sounding like everything he could've dreamed of, Armstrong attended Western Michigan University his first year to appease his parents, who didn't want him to pursue acting. Nevertheless, once they moved to the U.K., Armstrong moved to OU.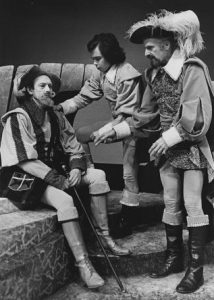 Under the direction of Fernald, Armstrong recalls the ADA as "an English school in all but geographic location." However, once Armstrong became a part of the academy, he says the school had changed.
"Paul Lee, who was sort of the artistic director, one of the English contingent, left," Armstrong said. "An American teacher came in named Al Ruscio who was this sort of rough, New York Neighborhood Playhouse type of guy who could not have clashed more completely with this tradition… between the time I auditioned and the time that I finally went there, there had been this change." 
Despite this change, Armstrong still benefited from his education at the ADA. After graduating in 1975, Armstrong and some classmates formed the theatre troupe, "Roadside Attractions," performing first in Ann Arbor before moving to the Attic Theatre in Detroit.
Armstrong also continued a relationship with his teachers at the ADA as they aided him and his classmates in producing productions put on by their troupe.
"We asked them [ADA teachers] to continue workshops with us so we could keep learning. Some of them came and directed plays for us in Ann Arbor," he said. "They were seeing, in front of them, in real time, the effect that they were having on people beyond graduation." 
Armstrong heavily focused on classical theatre for several years, portraying characters such as Puck in "A Midsummer Night's Dream" and Sylvestre in "The Adventures of Scapin," both Meadow Brook productions. After being a part of plays that got some notice, Armstrong began to audition for movie roles. 
Armstrong's first movie role was in a little movie called "Risky Business," released in 1983. Starring alongside Tom Cruise, Armstrong played Miles Dalby, a role that changed everything for him. 
In 1984, Armstrong played Dudley "Booger" Dawson in "Revenge of the Nerds" alongside Anthony Edwards and Robert Carradine. It's a role, Armstrong says, none of the cast members wanted to take. 
"I read the script, and I said to my agent at the time, 'There's no way I'm going to do this movie because I'm a classically trained actor,'" he said. "I just did this great movie ['Risky Business'], I'm not going to pick my nose and belch. They said, 'The thing is, they've offered it, so you pass anyway?' I took it."
Although Armstrong tried finding ways to cut his screen time throughout the movie's production, he enjoyed his time filming, creating bonds with fellow cast members that are still maintained today. 
"We connected so quickly," Armstrong said. "Before we knew it, we were in Arizona, we were having fun – particularly more fun than was, particularly speaking, a good idea. So then it became just enjoyable, but still with the idea that no one would ever see it ['Revenge of the Nerds'], let alone we would be talking about it 40 years later." 
After "Risky Business" and "Revenge of the Nerds," Armstrong appeared in a wide array of movies and TV shows, including "Moonlighting," "Ray," "Akeelah and the Bee," "Supernatural" and "New Girl." 
Though his days at the ADA were in the rearview mirror, Armstrong didn't forget his ties to OU and how the school helped shape him as an actor. In 2019, Armstrong donated a collection of memorabilia from his career to OU's archives.
In April of 2023, nearly 50 years after he graduated from OU, he received an honorary doctorate of arts from the university.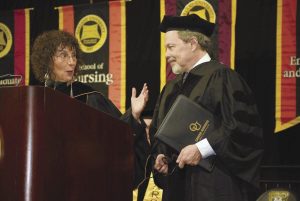 Despite maintaining a close relationship with OU throughout his life, Armstrong said the honor was a shock.
"I was not expecting anything like that," he said. "I was truly honored. It was a lovely thing to have happen."
Today, Armstrong is looking forward to the release of the movie "Dead Guy," a dark comedy about an absurd game of hot potato that begins when an abrasive old man suddenly dies in a neighbor's apartment. Armstrong acted in the movie under an interim contract in the summer of 2023. 
Though the ADA may be defunct, Armstrong enjoys talking to and mentoring students at OU's School of Music, Theatre and Dance (SMTD) any chance he gets.
 He also doesn't believe he would've had the lengthy career he has without OU.
"It was a great foundation," Armstrong said. "I couldn't have done better."