The fourth floor of Kresge Library: Has it gotten louder?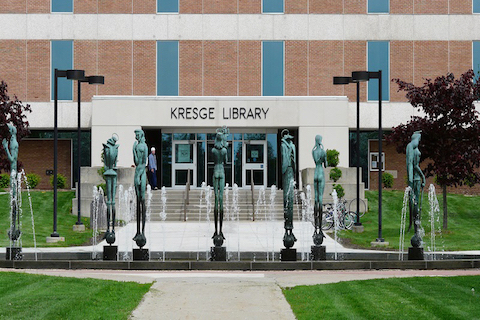 The fourth floor of Kresge Library is ideal for group study, which gives students the opportunity to talk among friends and peers — but how loud is too loud?
In the Library Users' Rights and Responsibilities, library users have the responsibility to refrain from disruptive behavior that hinders others' access to an environment supportive of study, research and collaborative scholarship — which includes behavior that contributes to excessive noise levels.
Although the fourth floor is open to conversation — unlike the "quiet study" atmosphere of the third floor — some students, like junior Jasmyne Young, feel like other visitors of the fourth floor are being disruptive to her and other students' studies. 
"Despite it not being the quiet floor, I shouldn't feel like I'm in a cafeteria, either," Young said. "At the end of the day we are trying to do our homework."
Freshman Pierce Doyle noticed the loud volume of the fourth floor two weeks ago, but says the noise can be tolerable at times.
"It can either make me more productive, because I kind of just tune everybody out," Doyle said, "or sometimes, I'm really not focused, and I have to move down to the third floor where it's a little bit too quiet."
Beth Wallis, associate dean of University Libraries, stated that the fourth floor of the library has never been a quiet floor, but thinks that there are a lot of reasons why it could have gotten louder.
"Students work really hard," Wallis said. "When they have an opportunity to get together with their friends and blow off some steam, it's going to just be where it's convenient."
Wallis said that the library staff tries to give students some grace, because they know how the past two years have affected them due to the COVID-19 pandemic.
"I have two kids who go to school here," she said. "The beginning of their college or the end of their high school [career] was fundamentally altered — it was stolen from them. So I think some people are feeling like they're making up for lost time."
While Wallis recognizes that the fourth floor is getting "pretty rowdy," she said that it's difficult to monitor due to the backlash the staff has received in the past.
"We do address noise concerns as they are brought to us," Wallis said. "But, I can tell you that in the past when people have gone upstairs to the fourth floor to police, they are treated poorly."
Wallis added that if students have concerns, there are multiple ways to report them both in-person and online, and the library staff will address them.
"We have a complaint form," she said. "People can absolutely submit concerns that way. More directly, they can come down to the service desk [on the main floor] and report concerns that way, and we definitely will go up and address any concerns that are brought to us. We also have an online chat where people could reach out to a librarian that way, even if they're in the building."
Wallis believes the most important way to address the situation falls to the students.
"We are a community, and community members rely on each other," Wallis said. "Some of this will be the responsibility of those who use the floor, to behave appropriately. I'm not saying people should be policing each other, [but] some of it is the responsibility of our students and those who use the floor to behave appropriately." 
If a person or a small group of people need to study and cannot concentrate on the fourth floor, they can also reserve a private room ahead of their visit. Wallis said that Kresge Library wants everyone to feel a sense of belonging there, and that is what the library staff is constantly striving to do.