2022 Detroit Auto Show: Biden's visit, absent companies and one giant inflatable duck
The North American International Auto Show (NAIAS) is back in Detroit after almost three years. The annual exhibition brings to the public and industry experts new models, market tendencies, new technology and industry innovations. 
Since 1899, Detroit has been home to this globally known auto show circuit. However, the pandemic didn't just impact the industry itself by delaying manufacturing and vehicle launches — it also affected big events like NAIAS.
After being pushed to the spring season to avoid winter's limitations, the 2020 show had to be canceled due to the spread of COVID-19. Since then, NAIAS could only come back in 2022 after most health restrictions were eased.
A lot can be unpacked from NAIAS. The event consists of three phases dedicated to different goals.
Sept. 14 and 15 marked the first days of the show. Called "Tech Days," these days were dedicated to receiving industry experts and hosting networking opportunities. 
This year, the first Tech Day welcomed President Joe Biden. According to NY Times, Mr. Biden is a "car guy" and a Corvette owner — though his taste for cars has nothing to do with his visit to NAIAS.
As Biden toured the show, he announced the approval of a multi-million dollar investment to initiate the construction of electric charging stations on many federal highways. The investment aims to help the U.S. reach its target of 50 percent of new cars in 2030 being electric  — compared to six percent today.
The second phase of NAIAS — the gala Charity Preview — happened Sept. 16, welcoming donations for over 10,000 kids.
"Over the past 25 years, Charity Preview has raised more than 100 million for charities in SE Michigan," WXYZ Detroit published last week. 
The final phase is the public days that run Sept. 17-24 — but just as many businesses suffered the consequences of the pandemic, so did NAIAS. Since the first day, the media has been publishing a contrast of expectations and waiting for the public surprise with the show this year. 
"[…] The show floor was in a more depressing state than ever before," Lalita Chemello wrote for jalopnik.com
Chemello's comment references all the missing brands and empty space she and many other journalists and auto experts found at NAIAS this year. The show has been suffering the effect of industry changes since 2018.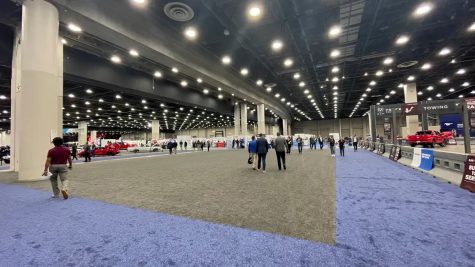 However, the shutdown era and all events being canceled for so long changed the way companies are marketing their launches. 
"[…] Carmakers pivoted — first to online live streams for new vehicle debuts, then to privately hosted events," Chemello explained. She pointed out that the reasons for this change of strategy are cost reduction and preference for a less competitive environment. 
Besides all experts' frustrations regarding the 2022 NAIAS, the public can still find fun attractions and beautiful cars to look at.  
Stellantis, Ford, Lincoln, GM, Toyota and Subaru launched new models and remodeled classics. Jeep marked its presence with its "ducking" movement and their 61-foot inflatable rubber duck — "the world's largest rubber duck" — at Jefferson Avenue.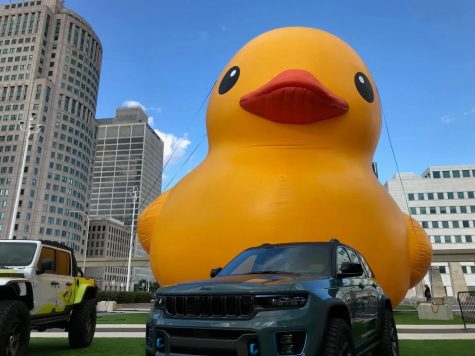 The event also includes outdoor activities, drones, dinosaurs, virtual simulators and many test rides. Jeep and Ford have put up test tracks so the public can get a glimpse at multiple off-road features of their cars. 
In summary, if you were part of the public that visited NAIAS in the past, you will have to adjust your expectations, as the show is very different from what it once was — making the future of the show difficult to predict. However, if you are just entering the automotive world, it can still be a fun experience to get inside new cars and check out new industry trends. 
If you are curious to check out NAIAS, remember that you have up to Sept. 25 to be at Huntington Place in downtown Detroit.