'Purple Hearts': Netflix's divisive military love story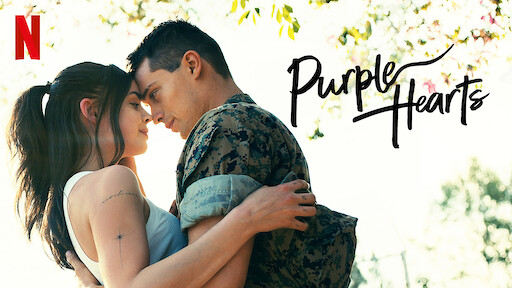 Summer is gone, but that does not mean your watchlist has to end. From May to August, Netflix launched at least 20 movies — one of which being "Purple Hearts." The movie — which stars Sofia Carson as Cassie and Nicholas Galitzine as Luke — debuted on July 29, and has kept its place within the Top 10 category ever since.
The plot is a take on the 'opposites attract' cliché. Cassie is an aspiring musician with Type 1 Diabetes and no insurance — and therefore, no insulin — surviving by serving tables and singing on down times at the bar she works. Luke is a troubled Marine about to ship out for duty in Iraq, hiding addiction problems and debts.
Their solution is a fraudulent marriage to get military benefits. The story goes on, and despite coming from different backgrounds and political beliefs, they fall in love and overcome their differences
"Although this is a fictional love story, the inspiration behind the romance —and the film's plot — is true for many," said Netflix in a Tudum article.
The movie — based on a book of the same name by Tess Wakefield — was praised by many hopeless romantics for its scenes of love songs and dialogs. However, it was heavily criticized for the same reason.
Underneath the love and unity angle, viewers found problematic topics — including illegal immigration, racism, polarized politics, militarism, misrepresentation of diabetes, white supremacy, xenophobia, toxic masculinity and so on. 
Many media outlets published critiques of the movie, such as TeenVogue, Vogue and Vox.
"Netflix's "Purple Hearts" Uses Diabetes Insulin Rationing for Military Propaganda," Zoe Witt said by way of her Teen Vogue article's title.
In Witt's detailed and lengthy critique, she points out that the movie presents a core issue ("the absolute urgency of insulin needs,") but focuses instead on an unusual love story. 
The name "Purple Hearts" refers to the medal of solemn distinction presented to US military members injured or killed in the line of duty — though in the case of the film, the color refers to more than that.
"It's two hearts, one red, one blue, two worlds apart, who are really raised to hate each other," director Elizabeth Allen Rosenbaum said to Variety. "Through the power of love, they learn to lead with empathy and compassion and love each other and turn into this beautiful shade of purple."
Still, the viewers' perspectives of this union were not that positive. Aja Romano writes for Vox.com
"(…) despite the titular color scheme, however, there is no mutual shift toward the middle here," Aja Romano said in a review for Vox. "In this story, for these lovebirds to unite, one of those worldviews has to tilt toward the other."
In the end, what was supposed to be a typical romantic drama had more to disclose than I ever expected. Mindlessly watching, the movie felt like any other Disney-esque love story — which made me understand where the problem might be. Which ideas are we indirectly absorbing?
So, now it is your turn. Tell me — from which angle do you understand "Purple Hearts?"