'Forging Silver into Stars' is a stellar spin-off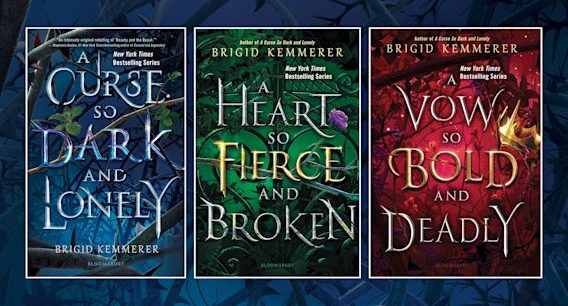 Oh, the magic that is Brigid Kemmerer's writing! Complex plots, intriguing characters, diverse representation — what more can you ask from a book? 
New York Times Best Selling Author Kemmerer's breakout Young Adult (YA) Fantasy "Cursebreaker" series — debuted in 2019 — is an epic Beauty and the Beast retelling. The series followed complex characters such as Harper, Rhen, Grey and Lia Mara. Kemmerer's spin-off 'Forging Stars into Silver' was released on June 7, 2022. 
As a huge "Cursebreaker" fan, I was excited to dive back into the worlds of Emberfall and Shyl Shallow. The warring kingdoms are now "united," but tensions are still there from the union between magic and non-magic brought on by the royal marriage. Seeing how the characters aged and matured yet still kept parts of themselves from the original trilogy was beautiful. 
The romantic relationships between the core four felt natural. It was like we never left their world. It felt like reuniting with old friends.
Kemmerer's gorgeous development of these characters was the most exciting to read about. I was more invested in Lia Mara and Grey than the actual plot, and they are hardly in the book! 
While I wish there were more moments with Harper, Rhen and Nolla Verin, I appreciated the small callbacks to the trilogy, such as the scene with Zo at the beginning.
The characters we know and love have grown up, and the dynamic between Rhen and Grey has turned into a similar arc for Grey and Tycho. Seeing the tensions and parallels between these pairs made the book more exciting — and heartbreaking, because it's Kemmerer — to read about. 
Let's talk about new characters — Callyn, Jax, Nora and Alek. Callyn and Nora have to be one of my favorite sister duos in a while. Their dynamic is so beautiful. They care about each other, but never miss an opportunity to tease one another. 
Jax and Callyn's involvement with the Royal Houses and how they're on opposite sides of a potential war? Genius! While there are moments where both Callyn and Jax do something stupid, you can't help but root for them. 
Kemmerer's writing makes it impossible to choose a side, as you sympathize with both characters despite their opposing sides and beliefs. You get to see why one side is anti-magic and how each character develops while the plot progresses. 
While the plot starts off slow and is mostly back and forth between Callyn's bakery and Jax's forge, the characterization helps push the story forward. About halfway through is when the plot thickens, and the threat of war and treason really start to pick up. 
The complexity of the plot and how each character's romantic relationships tie into the story are beautifully written. You understand why the characters do what they do, even if it isn't right. 
One crucial part that needs to be discussed is Kemmerer's diversity. Throughout the "Cursebreaker" trilogy we saw characters of different races, sexualities and abilities grace the pages. 
Kemmerer continues making inclusive strides in her novels by adding another disabled character into her world: Jax, a beautifully written, disabled character who lost his foot in an accident. I think so many writers can learn from Kemmerer's efforts in being inclusive. I would personally love to see her write a neurodivergent-coded character in a future book. 
Kemmerer's writing is what makes this novel shine. There is something for every YA fan in this book. It took a while to finish the book because I didn't want it to be over — there were moments where I had to stop and process what just happened. 
Rating: 4/5