Grading Brigid Kemmerer's amazing 'Cursebreaker' series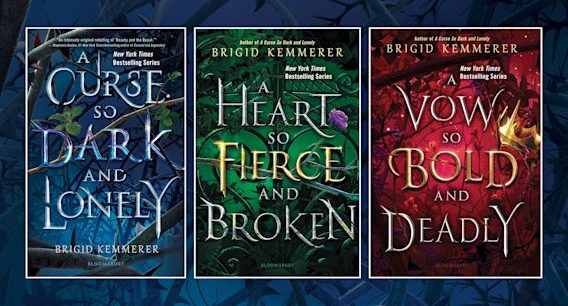 Books 40, 41 and 42 for the year are none other than Brigid Kemmerer's legendary "Cursebreaker" series. The dark fantasy series will indeed continue as Kemmerer has announced the spin-off "Forging Stars Into Silver" will be released on June 7 of this year. 
This "Beauty and the Beast" retelling is one of my all time favorites in the Young Adult (YA) fantasy genre, and I want to review and grade them. Each book is stunning with lovable heroes and intriguing foes. These books work well as series, but also hold their own as separate identities. This will be a spoiler-free review.
"A Curse So Dark and Lonely" 
The one that started it all. This is how you write a first book to a series, opening it up with immaculate world-building and characters that make you want to keep reading. The blend of real world and fantasy settings is what makes this story unique to others in the genre. 
Our book is split into two points of view (POVs) — Harper and Rhen. Harper is from Washington D.C. and gets kidnapped, ending up in Emberfall with Rhen and his commander, Grey, in the midst of war with Karis Luran. With this being the final season, Harper must break the curse. 
Rhen and Grey were cursed to keep reliving the same season by an enchantress, Lilith. Lilith is the best fantasy villain I have ever read! When you read about her, yes, she's horrible and gruesome, but also kind of a genius. Watching her torture the trio, especially that scene in the arena with Harper? Priceless. 
Not only is the book captivating, it also has a lot of disability representation — Harper herself has Cerebral Palsy. 
Grade: A+ 
"A Heart So Fierce and Broken"
Well, my heart is definitely broken. After the events of "A Curse So Dark and Lonely," the second book is from Grey's POV, and that of a new character: Lia Mara, the daughter of Karis Luran from the first book. 
Lia Mara is the opposite of her mother — she's kind and gentle. A princess with no throne, as her little sister will be the next queen. The relationship between Lia Mara and the characters I've grown attached to felt natural. Her joining the main group on their journey didn't feel forced.
The conflict of choosing between her kingdom and her heart as war is declared between Shyl Shallow and Emberfall? Beautiful. Lia Mara and Grey were great protagonists, and they seem like opposites at first. As we read as, we see how their relationships with their siblings, and each other, shape the conflict in a beautifully written way. 
Grade: A++
"A Vow So Bold and Deadly"
This book was definitely deadly. And gory. And soul crushing. The final book is where all of the conflict and complex emotions building up inside of these angsty characters come to a head. 
As the two kingdoms wage war, we see how Lia Mara, Grey, Rhen and Harper are all dealing with the consequences of the first two installments. Getting four POVs in the book was something I needed. I missed Harper's boldness and Rhen's angst. 
Reading this had me wanting to yell "Talk to each other!" to literally all of these characters because there's so much they want to say to each other but can't. That scene in Harper's room rips me apart every time, as well as the ending. This was a spellbinding end to a great series.
Grade: A+