Meadow Brook Hall's Winter Wonder Lights are must-see
December is among us and with that, the holiday season. After the year we've had, everyone could use some time to take their minds off the constant stressors of daily pandemic routine, and Winter Wonder Lights at Meadow Brook Hall is the perfect escape. The festivities began Nov. 26 and run through Dec. 30.
"Meadow Brook Hall is a place to connect, to be inspired and enjoy some unique cultural opportunities in our community," Marketing and Communications Manager of Meadow Brook Estate, Katie Higgins said in an Oct. 14 interview with The Oakland Post. "The Holidays at Meadow Brook are both a longstanding tradition for us, and gives us the opportunity to bring more members of the community in through our doors and into our gates than any other time throughout the year."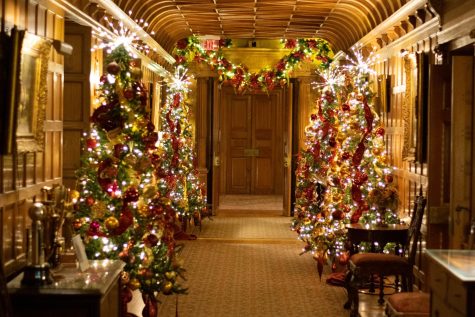 For Winter Wonder Lights, adults ages 13+ are $22, and youth ages 3-12 are $12. Oakland University students get in at a discounted $12 rate.
The other holiday event taking place at Meadow Brook is the Holiday Walk — which occurs indoors during the day. The Holiday Walk "is a self-guided indoor event featuring incomparable holiday sights and decorations inside Meadow Brook Hall, the historic mansion and National Historic Landmark located in Rochester on the campus of Oakland University," according to the Meadow Brook Hall website.
Our thoughts on Winter Wonder Lights:
The lights begin with a serene walk around the beautiful Meadow Brook Estate. During our visit — myself and Oakland Post photographer, Maggie Willard — the air was crisp and clean, and holiday music lifted our spirits.
Coming around toward the front of Meadow Brook Hall, the structure was illuminated by a plethora of colors — and what's more, the lights were often synced to the music, which made for an even more enjoyable experience. We felt we could stand and watch contently for a while.
Following the path, we were led into Meadow Brook Hall itself, where we were able to warm up by the fire and soak in the tranquil, traditional atmosphere and furnishings. It definitely felt like we were walking across a Pinterest board.
After our time inside, we came up to Maggie's favorite part of the lights — the pink orbs. There was something so calming about them, and they seemed brighter and more attention-grabbing than most of the other lights along the path.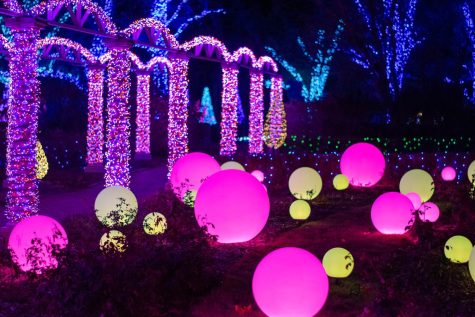 Similarly to the Detroit Zoo lights, the Winter Wonder Lights provide a spectacular walk-at-your-own pace experience, perfect for date night or an outing with family or friends.
There's also places to stop for some snacks and rest along the way, which creates an additional opportunity to sit and take in the lights, music and winter-y atmosphere. Plus, the amount of Instagrammable photo moments is definitely something to look forward to.
To book your spot for either Winter Wonder Lights or the Holiday Walk, visit the Meadow Brook Hall official website.