Cooley Law School's summer institute approaches deadline for application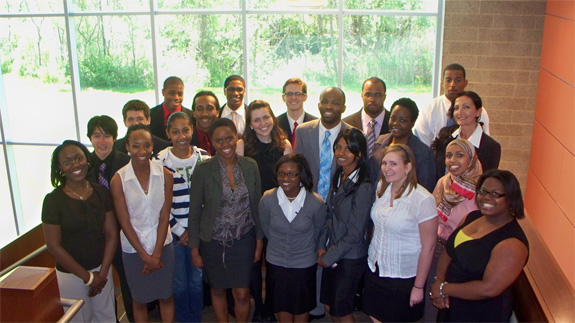 Time is running out for prospective law students to enroll in Thomas M. Cooley Law School's College Prelaw Summer Institute — the deadline to apply is April 2.
The Institute is a partnership of Cooley, Oakland University, Kaplan Test Prep Services and the American Bar Association's Council of Legal Education Opportunity (CLEO).
"The purpose of the intensive, pre-law program is to help diversify America's next generation of lawyers through expanding legal education opportunities to students of color, low income students and otherwise disadvantaged students," Cooley's website said.
The one-month program consists of 100 hours of academic instruction taught by law school faculty. The Institute is open to college sophomores, juniors and seniors.
Enrolling in the program is free, and students that complete the program receive a $750 stipend to help offset their expenses while attending the Institute.
Applicants must have at least 45-60 credit hours and a 2.0 minimum GPA and are required to provide transcripts, a two-page essay and a faculty recommendation in addition to their application.
The program includes courses in legal reasoning, legal briefs, Law School Admission Test (LSAT) preparation, torts, trial skills and legal writing, as well as visits with attorneys and judges.
Most students that have enrolled into the program improve their LSAT score in practice tests by five points, a substantial amount according to Val Schnable, Enrollment and Student Services Coordinator at Cooley.
"If you look at the Law School Admission Council website, you'd see that the likelihood of improving your score the second time, and then the third time statistically, it doesn't go by leaps and bounds," she said. "It's usually very small increments, so that's quite significant to be able to improve your score by five points."
Schnable said that while the program is specifically designed for disadvantaged groups, applicants who don't otherwise fit this requirement can be accepted.
"We don't have a huge pool of applicants so it's not very often that we've had to turn anyone away. Sometimes we do get somebody who doesn't fit into any of those categories," she said. "We tell them if we have seats available, we will consider sitting them into those seats."
Shannon King is currently in her third year of Cooley's four-year program and plans on graduating in May 2015. King participated in the Institute in the fall of 2011.
"Not only am I the first in my immediate family to pursue a law degree, I am also the first to graduate from college with a four-year degree," she said. "I had to face many challenges and obstacles to get where I am. CLEO was the foundation of my law-school career."
Students wishing to apply past April 2 are encouraged to email [email protected]