SMTD presents 'The 25th Annual Putnam County Spelling Bee'
Musical Theatre is finally returning to Oakland University Nov. 11-14 and 18-21 with a performance of "The 25th Annual Putnam County Spelling Bee." The musical production will take place in Varner Studio Theatre, as OU's School of Music, Theatre and Dance (SMTD) welcomes all for a chance to experience live productions on campus once again.
The production of the musical is being directed by Anthony Guest, associate professor of theatre at OU, and features the work of the talented theatre, design and tech students as part of the school's curriculum to prepare them for working in a professional theatrical setting.
The musical itself is a comical work about the lives of six kids striving for the title of spelling bee champion in Putnam County and the chance to earn a place in the national spelling bee competition. It also incorporates unconventional elements aiming to create an experience as opposed to just a show. Hint — the audience of the performance is also the audience of the spelling bee.
Guest and production members hoped to add more to the show to recognize the pandemic's impact on the world in terms of the human experience.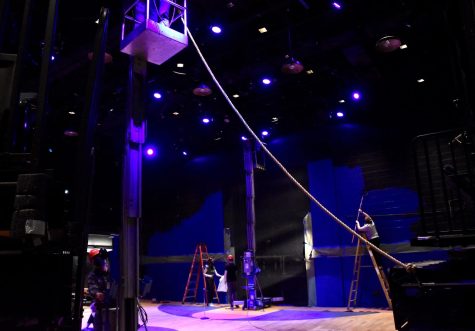 "It's a comedy, but I always think that an empty comedy that is just there to make people laugh is always missing something and we worked really hard to tell the stories of each of these six kids and what are some of the challenges at home they had to overcome to be at this spelling bee," Guest said. "The point is to make people laugh, but at the same time, there is humanity and there's hope. I think in our world today if we can leave the audience with hope about friendship and human connection, I think we've done our job."
Eileen Brennan, costume designer, and Mason Gaida, who plays vice principal Douglas Panch, expressed their excitement and anxiety about diving back into rehearsal and performances after a year-long wait.
"I was very excited to get back at it. The last thing I did acting-wise was in the fall of 2019 and then it kind of dropped off. But to be back in a rehearsal space was something that I was very anxious about and really just getting to play again," Gaida said.
"From a costuming perspective, a lot of my work revolves around creating characters and concentrating on the personality types of all these kids," Brennan said. "Diving into people has been a really comforting process for me and being able to have conversations with my collaborators about the pandemic and getting back into theatre for one of the first times since all of this stuff has been happening, I really enjoyed the approach that we've been taking."
Brennan and Guest, along with other members of the production team, worked to create a spine reflective of the show — essentially a sentence, phrase or idea that acts as a unifying, driving force — for all team members to refer to during their individual design processes. The spine, "Life is bigger than the bee, Life is bigger than me," reflected the feelings and emotions the team brought to the production after a return from online courses and isolation.
"We've had a lot of creative conversations that have revolved around relationships with people, especially with coming out of a pandemic where we were doing theatre classes online," Brennan said. "With this degree where a lot of our work revolves around collaboration, teamwork and working together to put on these large productions, it was a really cool approach to take."
Guest notes the spine's significance in the production saying although the cast and crew members work on characters as individuals when watching the performance, the differences and individuality of the characters create a bigger impact when they connect with each other.
"The show is sort of a microcosm of the world right now," Guest said. "We're all sort of individual and wanting to win but sometimes the person that's sitting next to you might be more important than that."
Tickets are available for purchase at etix.com for all performance dates. Guest wants to emphasize that all audience members read the COVID-19 protocols and regulations carefully, which can be found on the SMTD event calendar. All audience members must bring proof of COVID-19 vaccination either in print or picture form, a photo ID and a record of their OU health screening results. As per OU's mask protocols, all audience members are also required to wear a mask over the mouth and nose at all times during the show.