5 sitcom episodes to enjoy this Halloween season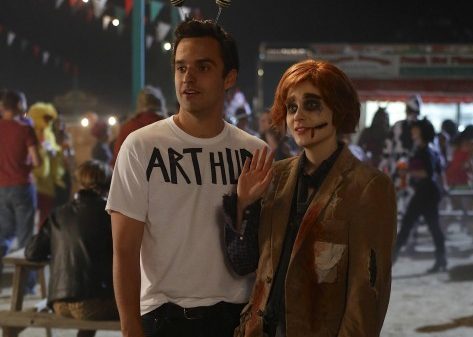 With Oct. 31 right around the corner, time is running out to carve your best pumpkins, consume all your favorite seasonal drinks and snacks of the pumpkin variety and enjoy all of the incredible Halloween themed shows and films out there.
If you're looking to embrace the spooky season without committing to too long a running time or too heavy a theme, I invite you to join me in diving into the vast world of Halloween sitcom specials — five essentials of which I've highlighted here.
"Epidemiology" — Community (S02E06)
Community always seems to find a way to take things one step further and a whole lot wilder than most other sitcoms, and this 22 minute zombie thriller is no exception. Watching the same characters you've seen experiencing life as you know it in every other episode suddenly engulfed in a sea of the undead is bewildering and thrilling at once — oh, and the entire, gloriously chaotic thing is soundtracked by ABBA's greatest hits. Need I say more?
"Sal's Dead" — Superstore (S03E05)
I will sing this sorely underrated NBC gem's praises to anyone who will listen. With a magnificent array of characters and writing that gives it an arguable edge in the funniest workplace comedy debate, Superstore produced hit after hit in their six season run — including an array of truly fantastic Halloween episodes. The bulk of this episode's hilarity actually lies within a plot troubling one side of the series' will-they-won't-they duo, involving a Tinder misclick and some in-store catfishing as damage control. Meanwhile, the entire cast is costumed-up and confronted with the discovery of a formerly employed corpse in the walls — so rest assured, the Halloween vibes are still overwhelmingly and comedically present.
"Halloween" — That '70s Show (S02E05)
In this hilarious season two episode, the That '70s Show gang ditches Forman's basement for the night and heads off to spend their Halloween at their abandoned, burnt down former elementary school.
Upon discovering their permanent records in the rubble, friendships are tested and long buried truths uncovered — oh, and a Batman-costume-clad Fez gets a go at Trick-or-Treating. Airtight jokes throughout act as fun testaments to the vibrant personalities of each character in the circle, with flashes of tongue-in-cheek nods to classic scary imagery and tropes tying everything together into a lighthearted Halloween special worth coming back to each year.
"Halloween" — New Girl (S02E06)
Of all the sitcoms I've watched — which is almost an embarrassing plenty, if you couldn't tell — New Girl always makes me laugh the hardest, and their season 2 Halloween episode is no exception. The episode follows the Apartment 4D gang to a haunted house where Jess is working, and we watch as Schmidt and Winston end their own relationships and attempt to poke holes in others' — all surrounding the topic of iffy costume ideas.
However, the true highlight of the episode is the internet's darling Nick Miller, of course — seen facing his fear of haunted houses by screaming (and punching) his way through in an effort to be there for Jess. It's heartwarming and stupidly funny in true New Girl fashion, and will have you crying with laughter this October.
"The Ghost in Suite 613" — The Suite Life of Zack & Cody (S01E19)
This beloved token from our childhoods is a must re-watch at this time of year for two reasons. First, for the pure nostalgic giddiness it'll wash over you, settling you into the comforting memories of viewing it on Disney Channel so long ago. Second, for the bone-chilling creepiness you might have forgotten how genuinely it channels for a kids show, even by today's standards. Seriously, my childhood life was divided into two eras — before and after witnessing Esteban's false possession.
This list is certainly not definitive — there are so many fantastic Halloween sitcom episodes out there that we've barely scraped the surface here. Nonetheless, I hope you take some enjoyment from this list, and perhaps find yourself reminded of or introduced to a new go-to spooky special to queue up.