OU Professor and NASA scientist awarded Scialog Fellowship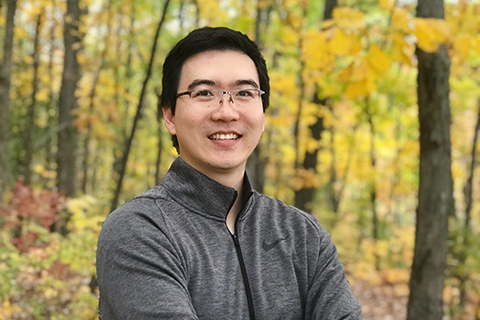 Assistant Professor of Environmental Chemistry at Oakland University — Dr. Ziming Yang — is one of this year's 53 Scialog Fellows. The Scialog Fellow program is sponsored by the Research Corporation for Scientific Advancement (RCSA), NASA, the Heising-Simons Foundation and the Kavli Foundation. 
Scialog: Signatures of Life in the Universe brings OU's Dr. Yang together with both American and international scientists as they research things such as the evaluation of extraterrestrial life signatures and planet habitability. The program awards $110,000 total to Dr. Yang and his collaborator Dr. Marc Neveu, assistant research scientist at NASA Goddard Space Flight Center. 
The project that Dr. Yang and Dr. Neveu will collaborate on (titled "How may Biosignatures in Icy Ocean Worlds be Affected by Plume Ejection?") examines the effects of planetary conditions on the ejection of biosignatures — which are evidence of past or present life on a planet — through construction of an experimental plume simulator. 
"The project will focus on biosignatures in geysering plumes from icy ocean worlds such as Saturn's moon Enceladus," Dr. Yang said to the Oakland News. "We proposed to build a plume simulator that can experimentally examine how biosignatures are affected through the plume ejection. Our goal is to seek bridging an essential gap for interpreting and validating plume measurements in future search-for-life missions." 
Such research, however, will likely not result in the confirmation that possible alien forms of life within Earth's solar system are the little green monsters of Hollywood films. More likely than this, is the possibility that life exists in its most rudimentary evolutionary stages. 
"We know that life on Earth requires at least three ingredients," said Dr. Neveu. "Life needs water, energy and something to eat — really, organic forms of our essential elements like carbon, nitrogen, sulfur, oxygen, hydrogen, phosphorus. On Earth, wherever we go and there are these ingredients in the right combination, we find life." 
The circumstances that would result in the coincidental creation of the conditions necessary for developing life are quite rare. Planets such as Earth, which have the right atmospheric and elemental conditions, are similarly sparse within what little stretches of space humanity may observe. In most cases, such as with Mars or the Saturn moon of Enceladus, there are only basic traces of what Dr. Neveu considers to be the elemental building blocks of extraterrestrial life. 
"Over the past few decades, missions by NASA and other space agencies have identified places in our solar system where the ingredients for life may be together," Dr. Neveu said. "The surface of Mars is one. The oceans in the sub-surface of Saturn's icy moon Enceladus is another one of those locations." 
The challenge for Dr. Yang and Dr. Neveu will be to recreate the conditions of biosignature ejection on a different planet — all by creating a research experiment environment that gives both scientists a realistic idea of what the conditions on an icy ocean planet such as Enceladus would be like. 
"It is about figuring out each of these steps that might happen," Dr. Neveu said. "And figuring out both how you would optimize the sample [taken from a plume ejection], and how you would input the measurements for such a sample."