OU alumnus researches economics of marijuana legalization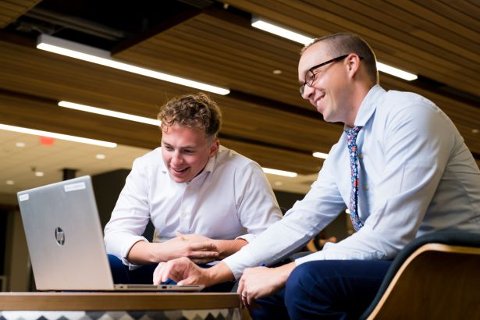 Former Oakland University student Cooper Hazel — who graduated in 2021 with a degree in economics — conducted a research paper titled "The Munchies: Marijuana Legalization and Food Consumption in Washington" in which he examined one of the least studied areas of economics: the effect that recreational marijuana consumption can have on an individual's expenditure toward food consumption. 
Such an issue was first contemplated by Hazel during his fall 2019 "Urban and Regional Economics" course with Associate Professor of Economics Timothy Hodge, Ph.D. Upon undertaking this research project in coordination with Dr. Hodge, Hazel experienced a forceful reassurance of the graduate school and professional aspirations that he held. 
"Economics is about making lives better and increasing well-being, and this research could help me help Americans," Hazel told the Oakland News. "I was interested in marijuana public policy, and this was a great starting place."
Dr. Hodge discussed the initial difficulties of the academic research process, and specifically elaborated upon Hazel's learning experiences with the time commitments required for professional research, as well as the rigors of data collection and analysis on a tight schedule. The literature review of the few similar (yet lengthy) economic studies was also something that Dr. Hodge helped Hazel reinforce his appreciation of, especially in the context of considering pursuing a master's degree in economics or an MBA. 
"I think Hazel grew a lot," Dr. Hodge said. "I think that he has a much better understanding of what the research process entails … It gave him a brief insight as to whether he wanted to pursue [a career] in academics." 
The research the pair conducted revealed that there is statistically meaningful correlation between the amount of recreational marijuana consumed and the amount of money that someone spends on "snack foods" which typically have a dense caloric structure and a high sugar content (such as chips or cookies). Additionally, the paper asserts that there is a statistically significant increase in the amount of drunk driving someone does and the amount of taxable income entered into the economy when someone consumes recreational marijuana.
"Instead of being uninformed about the true effects of these policies [public policies concerning recreational marijuana], you have to try and understand every aspect of these policies," Dr. Hodge said. "Informed citizenry is important. A lot of times, we don't have the answers to everything and we make an assumption about how this is just a bad policy. Obviously, there's arguments against recreational marijuana on the health of kids. But, are there other arenas where now we are dealing with adults who can make that decision for themselves?" 
Recreational marijuana in Michigan was legalized in 2018, and in 2020 the State of Michigan collected $169 million from tax and fees within the marijuana industry, with the market of raising and selling marijuana totaling $3.2 billion. 
"If the food industry goes up, if we see an increase in sales, maybe that could increase the number of jobs [generated indirectly by the cannabis market]," Dr. Hodge said. "Cooper saw a research opportunity here, and he capitalized. Going into this research project together, he was very interested in economics. I knew about Cooper, I had him in class and I knew that he had the potential goal of going to graduate school. I think he grew a lot through this experience."