Crafts with a Purpose makes a positive impact in OU community
Rachel Yim, Science & Technology Reporter
October 13, 2021
Crafting, simply put, is an activity of making decorative articles by hand. While it may seem as easy and not time-consuming , it can sometimes make a positive impact on others' lives.
Crafts with a Purpose (CWAP) at Oakland University serves this purpose. It aims to provide a creative and fun environment for students to make something that will be used for a specific cause.
The club held its first meeting on Oct. 6, where the members of CWAP spent time making and decorating cards that will be handed out to janitorial staff at OU who have worked tirelessly to keep our school clean and safe while accommodating for the difficulties the past year and a half have presented.
In a society where online technology has limited communication methods, handwritten letters and cards can often leave a powerful and long-lasting impression on the recipients.
"We [the eboard] were all very pleased with how the first meeting went," Alyssa Paul, president of CWAP. "We had more students participate than we had anticipated, which was amazing. We got to meet new people, make and admire beautifully decorated cards, and have a productive and creative outlet for the stress that comes with college and exams."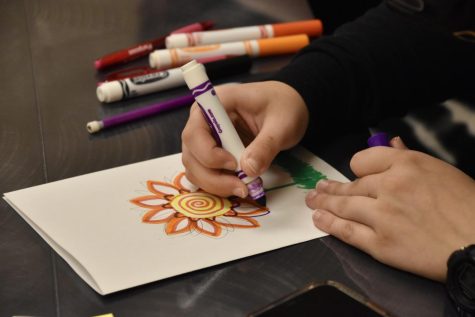 Paul, alongside the other executive board members, comes with the role of event planning, ensuring community involvement and making sure students feel welcome when they participate in an event. She decided to be a part of the club because of her love of crafting.
"I decided to be a part of this club because I have always loved doing crafts, but college has made it difficult to find the time to do them," Paul said. "This club provides an opportunity to turn crafts into a fun, social, and stress-relieving activity that is easier for students to fit into a busy schedule because the crafts are planned and ready for participants to make during the meetings."
Appreciation: One of the quickest ways to brighten others' days.
The very first step in making a positive impact on others starts with appreciation. It makes people feel valued, drives them to do their best, and helps with mental health; thus making a difference.
With the plan of gathering the members once or twice a month, CWAP hopes to put students' creative energy to work making crafts that will be used to brighten campus atmosphere or will be donated to local charity groups and organizations.
CWAP's next meeting will involve making tie blankets for "Fleece & Thank you," a nonprofit in Farmington Hills that donates finished blankets to children in the hospital, and will be held on Oct. 18, from 1:00-2:00 pm in room 126 in the Oakland Center. Upcoming events are to be announced to the members via email.
For more information about CWAP and the upcoming meetings/events, visit GrizzOrgs.