Slim Chickens is open in the OC, and we taste tested it for you
After Chick-fil-A's closure last September, there's a new place to get your chicken fix in the Pioneer Food Court: Slim Chickens. Founded in 2003, this is the chain's first Michigan location.
"We hope everyone is excited like we are," said Evol Gazzarato, Resident District Manager of Oakland University at Chartwells Higher Education Dining Services. "We put a lot of work into selecting the right opportunity to bring on campus, and we hope the students are as excited, receptive and enjoy it as much as we do."
The Slim Chickens ribbon cutting ceremony took place Tuesday, Sept. 2 — when various Chartwells and Oakland Center employees opened up the new vendor to the campus community.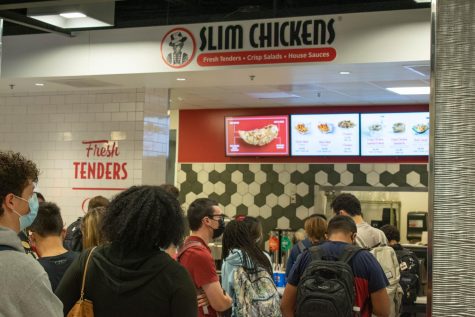 According to their website, Slim Chickens' mission is "to make the best hand-breaded chicken tenders using only the freshest ingredients, served in a friendly atmosphere where people can relax and feel at home."
The new chicken eatery sports a plethora of meal options — from chicken tenders, a crispy chicken sandwich to salad — and also offers milkshakes, macaroni and cheese and house made sauces including ranch, BBQ, honey mustard, buffalo, cayenne ranch and slim sauce.
Now, for the Taste Test
Our thoughts on the food were overwhelmingly positive. Selecting the basket of five tenders and fries, we were pleased to find both had a satisfying amount of crisp, pulling apart nicely without leaning too hard or soft. 
For sauces, we weren't particularly wowed by the original Slim Sauce. Instead, cayenne ranch was our standout favorite, adding a slight kick to the standard ranch — which had a deliciously smooth, thin consistency itself that we were fans of as well.

The mac and cheese bowl is a can't-miss. Well cooked, thick and super creamy, its taste brought to mind visions of a home-cooked meal rather than your usual fast food mac and cheese.
Finally, the menu marks the long-awaited introduction of milkshakes to campus — we sampled the chocolate, vanilla and strawberry and were smitten with each (and the boba-esque jumbo straws that come with them were just the cherry on top).
Additional Student Thoughts
After we were chickened-out, we walked around the Oakland Center (OC) to get a general consensus of students' Slim Chickens opinions.
Shakera, Junior, Photography
"I like the fries the most — not enough salt on them [though] — you'll have to add more. The tenders are alright. They're fried well and they're coming apart easy, [but] there's just this underlying texture that feels weird to me. I miss the Chick-fil-A that was here. I do like that they have milkshakes [at Slim Chickens], though!"
Nick Krueger, Freshman, Undecided
"The seasoning on everything is just so delicious — it sets it apart from everything. It's good food!"
Nateda Her, Freshman, Business General Management
"I did not expect the fries to be this good — I think they're really good, fresh and crispy. Same with the chicken tenders. And the ranch is good, too! I think it all combines really well — I like Slim Chickens."
Editor's Note: For full transparency, our meals were provided by Chartwells, but our opinions were not. The students we surveyed had purchased their own meals and were seated around the OC.