College of Arts and Sciences welcomes Dr. Elaine Carey as New Dean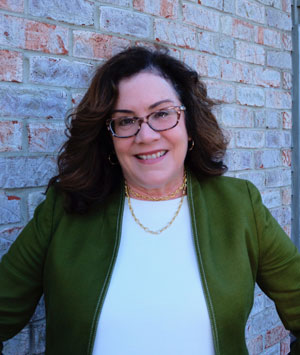 Dr. Elaine Carey is an accomplished historian, acclaimed scholar and passionate academic leader. This year, she adds dean of Oakland University's College of Arts and Sciences to the vast list of roles she's held, bringing with her a diverse range of experience and a strong admiration for the campus community she's joining.
Having originally pursued her Ph.D. in history from the University of New Mexico with the intention of becoming a journalist, Carey's detour into academia was as unanticipated as it was enlightening. It took hesitantly declining a dream job offer that's area of focus didn't correlate enough with her studies for her to make the transition, quickly realizing just how valuable her personal expertise was within the classroom.
Following her first position post graduate school at The University of Detroit Mercy, she continued expanding her teaching resume through positions at various schools across the nation, whilst simultaneously advancing her remarkable contributions to academic research. Having published dozens of works, she highlights her book Women Drug Traffickers: Mules, Bosses, and Organized Crime as one of her proudest achievements. Instrumental in altering the conversation surrounding women in the drug trade, this source is considered the first to assign focus to the ways in which these women have often been bosses in a number of ways — a focus previously so underexplored, several fellow scholars initially assumed Carey's presentation to be one of fiction.
Carey's most recent position was founding dean of Purdue University Northwest's College of Humanities, Education and Social Sciences. Arriving in 2017 at the university's inception, she played an instrumental role in the school's development, collaborating with faculty, administration, librarians and students across all of the university's colleges on endeavors such as general education offerings.
Her first brush with OU traces back to a visit to campus for a concert back in the nineties. Remaining cognizant of the university's growth over the years through friends on the staff, her initial intrigue to join the school was grounded in appreciation for its community.
"I was really impressed by the growth, the collaborations within the community, the research, the work that was going on and the programs that are in the college and the university as a whole," she said.
She's currently enjoying getting acquainted with campus and the work and people who make it what it is. Her ambitions for contributing positively to the CAS include reinstating the Meeting of Minds conference, establishing a theme for the college and prioritizing students' preparedness for their professional futures. Furthermore, she cites various consistencies across her experience and the college's central values — particularly that of Diversity, Equity & Inclusion.
"I mean, that is something that the faculty in the college have really spearheaded for much of the history of OU," she said. "It's the nature within their disciplines, and you can see it — not only in what they teach and their research, but also who they are. That is very similar to the work that I do, so that to me is really exciting."
Many CAS students had their first encounter with Carey during New Student Welcome last week. She embraced the opportunity to connect with students further by attending the Student Organization Fair, a testament to her commitment to remain engaged with students throughout her decisions made as dean.
"A lot of what I'm really interested in [is] working with students and asking them […] what, maybe, the college could do better," she said, highlighting her desire to form a student advisory board — something she proudly instated at her previous college. "I'm hoping to have some of those conversations going forward with students."