Professor Jeff Chapman reflects on becoming program director during COVID-19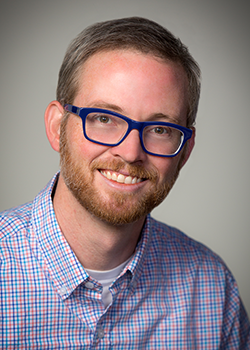 2020: was it the worst year ever? Or the strangest? The most annoying or most difficult? Answers vary, and it's easy to understand why. We lived through COVID-19 collectively, but experienced it individually. Separated from our communities and the comfort of our day-to-day routines, we were left alone to pick up the pieces of our lives broken by the pandemic. While reconstructing his life during quarantine, Professor of Creative Writing Jeff Chapman found himself making room for a few new pieces.
Like so many professors, Chapman was thrust out into an ocean of pandemic restrictions and uncertainty. He began charting his course of socially-distanced learning, eventually reaching the unfamiliar shores of Zoom class sessions and Moodle interactive materials.
Unlike many professors though, Chapman was also beginning his new role as OU's Program Director for Creative Writing, taking over for Professor Annette Gilson after the 2020 winter semester. The opportunity was unexpected, but still welcome despite the less than ideal timing of the pandemic.
"The timing was imperfect, no one could have seen [COVID-19] coming," Chapman said. "It's difficult to take over a program, especially from someone who had done such a good job as Annie Gilson. [She] had guided the program really adeptly for a long time. I had been interim director for half a year while she was on sabbatical and really enjoyed running the program. I had that test run … so it was time."
Chapman grew up in Utah. He completed his undergraduate degree and Ph.D. from University of Utah where his father David Chapman was a professor of geophysics and the dean of the Graduate School. Chapman continues to be influenced by his father's hard work as an academic.
"I think for [my dad], that idea of playing a part in administration in order to make the university better was really important," Chapman said. "I don't think I'm nearly as good at it as he is, but I love the idea of being able to use positions of leadership for good."
Driven to succeed, but having to adapt to the position during such an unprecedented time, Chapman is still learning exactly what it means to be program director. His focus during the 2020-2021 school year was making sure his people made it through.
"It's harder to know exactly what [being director] means during a pandemic, because so many of the tools that you have are thrown out the door," Chapman said. "You're not seeing people … you're not having readings. People aren't coming into your office and everyone is exhausted. As a director, I think we've been in like emergency mode for the last year and a half. I think everyone's just trying to get through it."
The difficulty of this year has given Chapman a real appreciation for his staff. Moving forward his goal is to take the creative program to new heights.
"The creative writing faculty are world class writers and teachers. They're heroes for what they've done during the pandemic," Chapman said. "We have the possibility for this program to be one of the best undergraduate creative writing programs in the country … that's my goal. The writers we have [on staff are] so talented. Our nucleus is young. In the next five years, these writers are going to explode. There's no reason why we can't say that undergraduate students who are majoring in creative writing at [OU] are getting the best degree they can get in the United States."
Starting in 2009, Chapman has now been professing at OU for 12 years. His specialties include classical mythology and workshops in fiction. His professorial persona features a thoughtfully-deliberate cadence and the occasional shamelessly-corny dad joke during lectures. 
While teaching over Zoom isn't his preference, he has learned to see some positives in his students as they worked remotely this past year.
"I like being in the classroom. That's why I teach, the energy that comes from having a conversation and being in there. But … my worldview has changed somewhat," Chapman said. "A value that I've discovered with asynchronous classes is that it is more democratic. In the classroom, as much as I try to get everyone to talk, they rarely do. [When COVID-19 started and we switched to Moodle] there were some students who never spoke up during the semester, who all of a sudden were writing the most amazing forum posts. That was really cool. That was, for me, a real discovery.  Asynchronous classes taught me that when everyone is writing their ideas down, it's amazing how thoughtful and interesting people are." 
An author in his own right, Chapman specializes in short fiction and the visual-literary art of graphic novels. According to him, these genres allow him to mirror the strangeness of the real world with a touch of fantasy flare.
"One thing that fiction can do is make anything happen," Chapman said. "The worlds of my stories might resemble the real world by 90%, but then a character gets transformed. It's one step away from the normal, but still [rooted] in the real world … because at the end of the day, what I'm interested in is people. The human experience is so unknowable, and we're just all trying to get through it. We're all thrown into a pool to see who knows how to swim. No one's taught … that's life. Man, it's interesting."
Chapman is optimistic about positive change in literature and society, specifically heightened social awareness and a new variety of voices being heard following the pandemic. 
"My gut says that literature is constantly redefined by moments of great stress," Chapman said. "This is a huge, once in a lifetime event that is deeply traumatic. It seems like it has to come through in the literature. It's important … there's all this other sort of interrelated stuff that has to do with social justice. We're seeing how important it is to have different voices that are heard."
His advice to his students and himself during these difficult times is to keep writing.
"The world is resistance. The challenge of being a writer is overcoming resistance," said Chapman. "Without a doubt the writers who make it are the ones who stick with it and write. It's really that simple. Go start writing. Life is better when you're writing."