OU PRSSA hosts second Mocktail Networking Night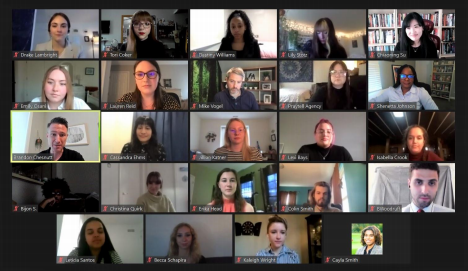 Oakland University's chapter of the Public Relations Student Society of America held its second annual Mocktail Networking Night on Tuesday, April 13, uniting current and future industry professionals over Zoom.
PRSSA is a national organization which aims to assist young people seeking futures in the world of public relations and communications. Since 2019, the OU chapter has planned annual Mocktail Networking Nights as a means of providing opportunities for members to connect. 
COVID-19 restrictions forced the last-minute cancellation of the planned second installment last spring. The executive board members of OU's PRSSA were eager to bring the event back to life in a virtual format.
"People that come say that they really like it, that they had made great connections from it and so on," Drake Lambright, OU PRSSA's president, said. "It's [also] been super important for us as a chapter because it's a big membership recruitment opportunity."
This year the event welcomed four professionals for the evening – Shenetta Johnson from the PR firm Weber Shandwick, Brandon Chesnutt from the PR firm Identity PR, Olivia Braun from the communications agency Praytell and Mike Vogel from the social media platform Reddit.
The event began as the executive board welcomed those in attendance with a special introduction. Each professional guest was then invited to introduce themselves, their work and their individual roles at their respective companies. From there, each professional went to their breakout room so attendees could ask them questions.
"The event turned out super successful for me," PRSSA member Kaleigh Wright said. "I definitely was given the opportunity to talk with and meet with a lot of professionals … I really enjoyed listening to their personal experiences and their personal goals, because it made it more [apparent] to me [that] these are professional people and they have the same goals I do."
Each of these professionals was once in the same position as the attendees, as students studying communications and public relations in the Metro Detroit area – with three of them having obtained degrees from Oakland University.
Braun from Praytell, was a 2019 graduate and former President of OU's PRSSA chapter. The idea to host a networking night for students was actually her own, back in 2019. She talked about what it meant to her to come back and witness how the event is benefitting the chapter and its members.
"It's important to build relationships when you're actually in your career," Braun said. "If you can get ahead with building those relationships with professionals or the other students in your program [you should]. It shows a lot of drive and passion when you're able to do that [before your career has technically started]."
As for why professionals value attending events like these, Braun says that a lot of it has to do with seeking out talent that they can confidently recommend for recruitment. 
"Cold hiring where you just kind of see a resume, you like what you see and you reach out to the person is not nearly as effective as knowing a little bit about the person," Braun said. "It is actually a lot [of pressure] on the person that recommends someone for a position, since you're kind of sticking your neck out for them."
Lambright reiterates this message, encouraging anyone hoping to land a career in this industry to check out the event in the future.
"It's all about professional excellence," Lambright said. "You can take as many classes as you want … but that is never going to teach you real-life skills like being alone with a professional in a Zoom room and asking them a question or learning from them will."
Students who are interested in learning more about Oakland University's PRSSA chapter or who might wish to attend this event next year can visit the chapter's website and follow them on Instagram.