South Foundation renovation and addition project underway
Update: As of Sept. 23, 2021, the renovation doesn't seem to have begun. To the naked eye, there is no construction or hints that the addition will begin soon. The doors to the building are locked.
A construction perimeter was established Feb. 1 on Oakland University's South Foundation Hall's massive upgrade — a $40 million dollar renovation and expansion — according to a recent press release. The building's square footage is jumping from 49,645 to 91,100 square feet, with classrooms increasing from 37 to 50.
The project is slated to finish in May 2023 — as construction was delayed in light of COVID-19.
"It is a much needed improvement to an old building, resolving significant deferred maintenance and will provide additional space for students and faculty in the addition," said John Beaghan, vice president for finance & administration and treasurer to the board of trustees.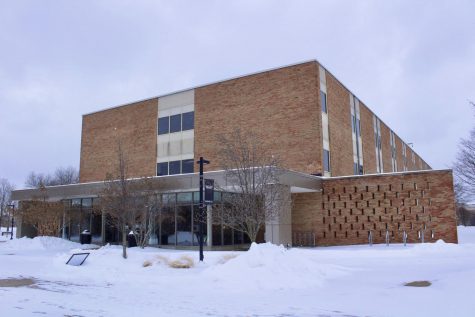 Not only is space increasing, but improved technology, mechanical systems and modernized aesthetics are coming too. 
The expansion will bring technology-enabled learning environments, active teaching and learning seminar rooms and collaboration, project and study space, according to the outlay plan.
"South Foundation Hall is one of the oldest buildings on campus and definitely need[s] to be updated," Senior Associate Provost Michelle Piskulich said. "The building provides only limited space for students to collaborate before or after class, has classroom sizes that are not optimal — especially given the ceiling height — has mechanical systems that are at the end of their useful life and with only one freight elevator, is not very accessible."
The renovation also hopes to address the need for space in academic areas such as STEM, health professions, education, humanities and the arts.
"South Foundation Hall is at the front door of our campus and frankly looks dated," Piskulich said. "With the new exterior, it will be a building we want to show off — really communicat[ing] that we are a university of choice. I know faculty will really be excited to have more modern classrooms when the project is complete, and I think everyone will like the collaboration space."
In 2016, OU's Master Plan stated the university reflected nearly a 500,000 square foot deficit based on state guidelines and informal benchmarking of similar institutions. That being said, the need for more space is evident — the South Foundation renovation will play a pivotal role in successfully supporting space initiatives.
"We will have more and better classrooms for sure, but I also think this renovation and addition will add to the beauty of our campus," Piskulich said. "Each new project we have done in the last 10 years or so has improved the overall aesthetic of campus and kept students front and center in the planning — I'm excited to see students in the building and enjoying it."
The project is also sustainable — according to the outlay plan, sustainable design principles will be integrated. These include saving energy and conserving resources, potable water use reduction, usage of recycled materials, reduction of carbon footprint, among others.
Due to COVID-19 and remote coursework in Winter 2021, the South Foundation construction is not expected to have a significant impact on campus operations, nor will there be a tuition increase. 
"We hope [it will be] a building [students] want to hang out in, not just pass through," Piskulich said.