Gretchen Whitmer is elected as Governor of Michigan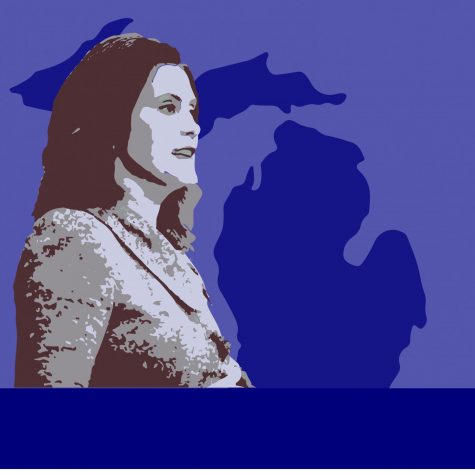 With a lead of 51 percent to 46 percent over Bill Schuette, Gretchen Whitmer was named as the 49th Governor of Michigan on Tuesday, Nov. 6.
Whitmer, who has served as Michigan Senate Democratic Leader from 2010-2015 and had served in the Michigan House for 3 terms prior, will be succeeding former Governor Rick Snyder.
"Throughout her campaign, Gretchen Whitmer emphasized her willingness to work in a bi-partisan fashion with Republicans," John Klemanski, Ph.D, political science professor at Oakland University said.  "I think that will help ease some of the tensions associated with the trends toward increasing partisan polarization that we've seen over the past 10 years or so…I think she'll find ways of working with legislators from both parties in order to accomplish shared goals."
As for changes Whitmer has stated she will enact, Klemanski believes that fixing Michigan's roads and protecting civil rights will be at the forefront.
"Whitmer will likely focus on fixing Michigan's roads — and finding ways to fund that — early on in her new administration," Klemanski said. "That should be a top priority for her, especially since this issue was a key piece of her campaign. She has spoken frequently about protecting people's rights as an important value…many of these rights have been taken away or diminished over the past eight years."
Whitmer has advocated for women's health issues in general and aims to protect civil rights.
"On transgender and sexual orientation issues, she already has a record of opposing attempts to restrict the rights of transgender people," Klemanski said.  "She will work to broaden the Elliot-Larsen Civil Rights Act, to include protections for LGBTQ individuals. I expect she will support and uphold the U.S. Supreme Court's 2015 decision that legalized gay marriage."
Another point of concern for Whitmer will be Line 5 oil pipeline.
"Gretchen Whitmer has said she'd shut the pipeline down, however, Governor Snyder has recently negotiated a deal with Enbridge for them to build a tunnel under the lake bed to house a pipeline in the Straits," Klemanski said.  "This likely will obligate Whitmer to the terms negotiated between Enbridge and the state."
According to OU political science & international relations professor David Dulio, Ph.D, Democrats have had the advantage since the start of this election cycle.
"It was very likely that any Republican was going to lose the governor's race" Dulio said. "Michigan has a history of swinging back and forth with the governor's race since the 1980s. Jim Blanchard won two terms, followed by John Engler who won three, and then Jennifer Granholm for two [the first election where term limits took effect at the governor level] and then Rick Snyder for two terms. It fits a historical pattern that it would go to the Democratic candidate this time."
The state of Michigan has seen an increase in voting turnout this election. Motivation for voting and enacting change within society seems to be due to the current political climate present within the country.
"Motivation to vote seems to have been higher but only relative to other midterm election years," Dulio said.  "Over the last several decades, midterm turnout nationally has averaged about 40 percent. That's not terribly high. We've seen enthusiasm shift over the last two years or 18 months."
Whitmer has various priorities — road improvement, pension tax, civil rights, etc. — but many of these changes will require action by the Michigan Legislature. As she is limited in what she can accomplish, changes will be dependent on the relationship she can build with the Legislature while she is in office.