Oakland's Living Legend
It was a snowy Friday morning and Oakland's men's basketball team was hard at work in the O'rena. While the players were running up and down the court scrimmaging against each other, Head Coach Greg Kampe was sitting, watching the players meticulously. As he sat on the sidelines wearing one of his signature tracksuits, Kampe's eyes followed the players and analyzed every move and play made on the court.
Once the scrimmage was over, Kampe got up from his chair and called everyone to the center of the Blacktop. As he gave Team 51 feedback, each player listened closely to what Kampe was saying out of respect for their coach.
"The longer you've been around him and the longer you've let him coach you, you get to understand," forward Jalen Hayes said. "Kampe knows everything. He's such a smart basketball coach. He trusts us and keeps it honest with us. There's no other way it should be other than for us to trust him back."
The beginning
Fresh out of college with a bachelor's degree in business and journalism, Kampe started his coaching career in 1978 as a graduate assistant for the men's basketball team at the University of Toledo in Toledo, Ohio. In '79, he accepted a full-time assistant coaching position with Toledo where he remained for the next five years.
"I actually wanted to be a broadcaster, I majored in that," Kampe said. "I wanted to be a sports anchor, but people kept telling me they thought I should coach and the opportunity as a graduate assistant became available. I said, 'OK I'll try this.' Forty years later I'm still doing this."
Kampe first heard about the head coaching position for Oakland from the baseball coach at Toledo who encouraged him to apply. But at the time former Saginaw, Mich. resident had never heard of Oakland University stating, "I'm not going to California."
After taking the time to look into OU, he decided to visit the campus and talk to some people to see what the campus was like. He decided to apply for the position shortly after his visit and in '84 Kampe was chosen as the head coach for the men's basketball team.
"I was excited," he said. "I was 28 years old. I was the youngest head coach in the country at a scholarship giving school at age 28. So I felt fortunate, my whole life changed at that point."
Kampe was charged with making OU's men's basketball program one of the finest in Michigan, a feat that seemed impossible at the time. The then-Pioneers had never won a game, which lead many to believe that Oakland did not have a basketball team.
"It was very difficult. They had never won. Nobody cared about basketball, the students didn't care about basketball, they didn't even know they had a team here," Kampe said. "The facilities were bad, the office was very small, very few coaches. It was a hard job. You had to roll your sleeves up and go to work. The good of it was that it gave me a chance to build from the ground up."
The legacy
For the next 14 years, Kampe worked on developing OU's basketball program. He made sure the men's basketball team had a strong defense and an offense that frees players for good percentage shots with a mixture of screens and precise passing, a strategy that Kampe still uses today.
The Pioneers competed in the National Collegiate Athletic Association (NCAA) Division II Great Lakes Intercollegiate Athletic Conference (GLIAC). During that time, Oakland became a perennial powerhouse in multiple national championships and the men's basketball team made it to the Division II postseason four times in their final four seasons as a Division II school.
In '98 Oakland's president at the time Gary Russi wanted to make the transition from Division II to Division I. He believed Oakland's basketball program could put Oakland's name out there on a national level. OU changed its school mascot from the Pioneers to the Golden Grizzlies. This transition sparked a drastic change in the university's culture.
"I lived an hour away from the school and had never heard of it," Kampe said. "Now you have name recognition nationally and you're an institution that people want to go to now. I think our basketball program has had a big say in that. We've been part of that growth and that change."
Throughout his past 34 years at Oakland, Kampe has accumulated numerous awards for his success as a coach. On Sept. 15, 2017, Kampe was inducted into the Michigan Sports Hall of Fame, joining Jalen Rose, Dennis Rodman and Jim Leyland to name a few.
Kampe led Oakland to six championships in 14 seasons inside The Summit League, including three NCAA tournaments (05, 10, 11). He became the fifth active Division I coach to win 500 games at one school, finished third all-time in The Summit League with 147 league victories, and earned a league-best five Coach of the Year accolades.
During his 33rd season as the head coach of the Golden Grizzlies, he became the third-longest tenured coach in Division I. Kampe led Oakland to its first-ever Horizon League regular season championship in 2016-2017, earning the No. 1 seed in the Horizon League Championship. The Black and Gold won 25 games, the second most in program history, and made an appearance in the National Invitation Tournament, beating in Clemson in the opening round.
The impact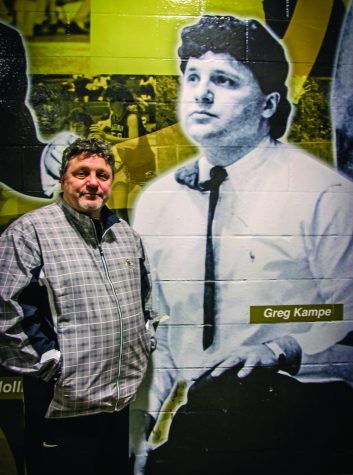 During Kampe's time at Oakland, he has left a lasting impression on the university, the players he's worked with, his coworkers and the community.
Kampe spends a lot of his free time working with charities and non-profit organizations throughout the community. He has worked the most with the American Cancer Society and created his Beat Cancer event, a fundraiser where members of the community get the chance to golf with some of the top basketball coaches in the country. With his Beat Cancer, even Kampe has raised over $400,000 for the ACS.
"We had a bunch of cancer related deaths and heartbreak within our program over two or three years and I made a comment publicly about it," Kampe said. "A day after it was in the paper the American Cancer Society showed up at my office and asked if I would do something about it and help them."
Former Oakland athletic trainer Tom Ford worked with Kampe for more than 30 years before he was diagnosed with ALS in 17. When the two first met, it was a little rocky, but Ford and Kampe soon became fast friends.
"We go way back," Ford said. "There were many times he was mad at me for making a decision and then he would realize it was the best decision. Of course when I first met him he thought he was the athletic trainer, but after a while he realized I was a pretty good athletic trainer."
As the head coach of the men's basketball team, Kampe has worked with over 100 players, and has impacted each of them in a different way. For Hayes, Kampe as always been there when he needed it.
"Since I've been in college that's who I went to for everything," he said. "He's been able to help me through some bad times, he's been able to lift my spirits and he's been able to encourage me through the good times. He's been able to keep me consistent throughout the course of the season. He's been very impactful for me."